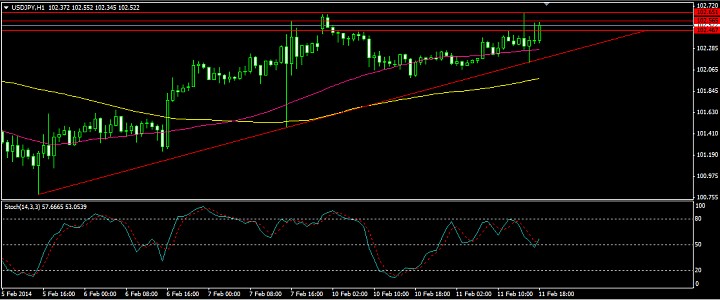 USD/JPY broke the key resistance at 102.46 and found resistance at 102.56. 
If it continues to move upward, it might break this resistance as well and find the next resistance at 102.65. 



The two events which supported the pair's rise are Yellen's testimony and Japan's increased Current Account Defecit (CAD).
Yellen supported the Fed's plan of tapering, however was not happy with the recovery in the labor market. 
On the other note the current account deficit of Japan grew to -.20 trillion JPY which economists were expecting to increase to -.06 trillion JPY. This will definitely reduce the demand for currency and the products. 
The pair right now seems to be bullish according to the ascending triangle on the chart.