Anna Kalmykova, Analyst, Global Markets (Finam)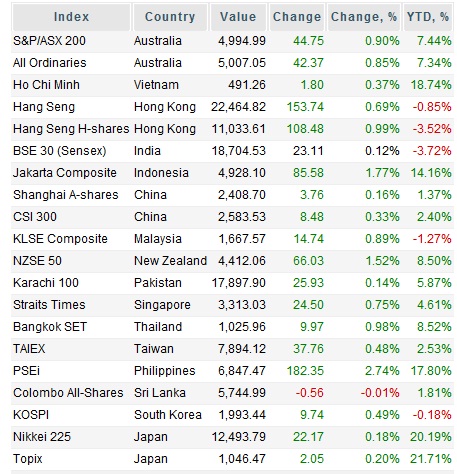 On Wednesday, March 27, Asian equities advanced amid encouraging US macro data. Specifically, the S&P/Case-Shiller Home Price Index, comprising 20 major metropolitan areas, delivered the highest growth in more than 6 years over 12 month ending in January, beating the consensus estimate. In addition, durable goods orders turned out to be stronger than expected in February.
On the economic front, South Korea's consumer confidence index rose to 104 in March, up from 102 in February.
In other regional news, Fitch Ratings raised the Philippines' Long-Term Foreign Currency Issuer Default Rating (IDR) from ВВ+ to ВВВ-, while The Long-Term Local-Currency IDR was upgraded from ВВВ- to ВВВ. The outlook for both ratings is stable.
Meanwhile, gains on Japanese markets were capped as March 27 was declared an ex-dividend date and about 80% plays on the Topix traded without the right to get the current-year's dividend.
Recapping the indexes, the regional barometer MSCI Asia Pacific firmed 0.3% to close at 136.04. Australia's S&P/ASX 200 inched up 0.90%, China's CSI 300 added 0.33%, while Japan's Nikkei 225 edged up 0.18%.
US-exposed regional companies locked in gains amid upbeat data on home prices and durable goods orders, with Australia's building materials supplier James Hardie Industries climbing 1.2% and Japan's electronics maker Panasonic spiking 5.2%.
Shares of China's biggest port developer China Communications Construction shot up 7.3% after the company reported FY profit of RMB 12.2 bn, while analysts, on average, had projected RMB 11.3 bn.
China's fourth-largest lender Bank of China surged 2% on stronger-than-expected FY profit. In 2012, the company's net profit rose 12%, from RMB 124.3 bn a year earlier to RMB 139.4 bn (USD 22 bn) against the median estimate of RMB 132.6 bn.
Japan's second-biggest tire manufacturer Sumitomo Rubber Industries added 4.4% to its market cap after being upgraded to Overweight by analysts at Mitsubishi UFJ Morgan Stanley Securities.
Among the decliners, supermarket chain operator Daiei plunged 9.8% on news Japan's largest retailer Aeon might boost its stake in the company from 20 to 40%, buying the stock at a discount.