Investors hoping to suss out the next Amgen or Gilead Sciences -- that is, companies that start small but grow into multi-billion dollar entities -- can be in for rough ride. After all, most early life cycle biotechs tend to meet one of two less glamorous fates: bankruptcy or buyout. Armed with this insight, let's take a look at two high-profile biotech companies that appear destined to vanish from the public markets within the next year or two.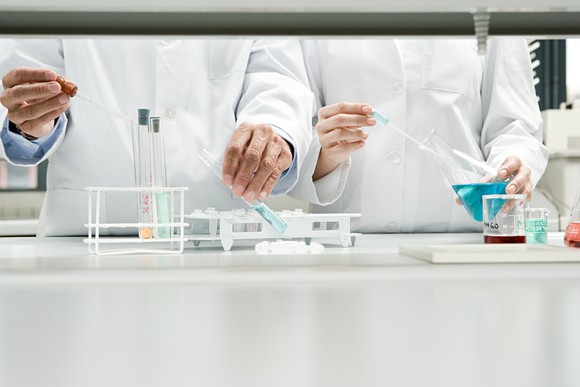 Nuplazid's commercial launch would be better served by a big pharma
Acadia Pharmaceuticals (NASDAQ:ACAD)has officially launched its FDA-approved Parkinson's disease psychosis (PDP) drug Nuplazid (pimavanserin) in the United States. As a result, investors are eagerly awaiting the drug's initial sales data to be announced during the company's upcoming third-quarter earnings release in early November. Despite Nuplazid's multi-billion dollar sales projections, though, Acadia's stock has steadily declined since the drug hit the market earlier this year: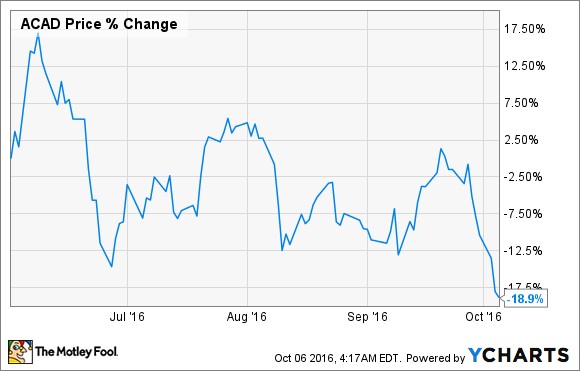 The overarching concern seems to be Acadia's lack of experience in terms of handling a commercial launch. Nuplazid, after all, is the company's maiden voyage into the complex world of pharmaceutical sales, and the biotech is up against a host of bigger competitors that sell a variety of products commonly used off-label to treat PDP.
That said, Nuplazid's estimated target market of 400,000 Parkinson's patients in just the U.S., combined with its annual wholesale price of $23,400, gives it a real shot at eventually reaching blockbuster status. However, it might take a company with deeper ties to the Parkinson's disease market and a more robust commercial infrastructure to turn these lofty sales projections into reality. So, if Nuplazid gets off to a slower than expected start and Acadia's valuation continues to trend lower as a result, this mid-cap biotech might prove to be a particularly compelling buyout target.
And perhaps as an added buyout trigger, Acadia is close to releasing the results of a mid-stage study assessing pimavanserin...
More