Demandware provides a digital commerce platform that enables customers to establish and execute complex digital commerce strategies, which comprise global expansion, multi-brand and multi-site rollouts, omni-channel, and in-store operations etc. Demandware stock price grew up more than 12% over the last week and more than 5% over the last few days. 
<!== INSTRUMENT %% %60% ==!>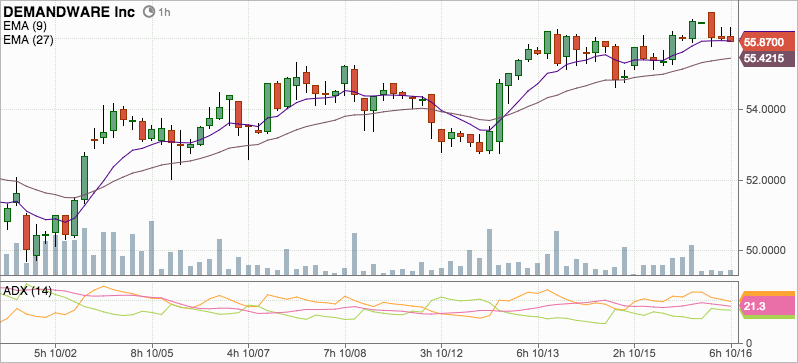 Demandware generates its revenue from the subscription mostly, more than 90% comes from the subscription. Let's check the operating and financial metrics.
The company has a growing number of customers, Demandware had 151 subscribers in 2012 and increased it to 267 in 2015. The company's software is oriented on Enterprises, therefore the company charge lots for its solutions and the number of clients is not such a huge number as software companies usually have. 
As I have already mentioned, the company is focused on Enterprise clients, so the ARPA is really large, however the company grew it up over the last several years. ARPA was around $450K in 2012 and increased to $546K in 2014 and that's quite an impressive growth. Moreover, as of June 2015 the company had around $296K in ARPA. Hence, I assume that the company will be able to increase its ARPA by the end of this year.
The company's operating expenses have a multidirectional trend: grew up in 2013 and dropped down in 2014. However, we see a significant increase in product development in 2015: as of June produce development costs were around 29% of revenue (+8% in comparison with June 2014). Sales and marketing expenses are approximately at the level of previous year. 
Due to the fact, that the company increased its cost of revenue and product development expenses, it significantly decreased its marginality. I think that the company will most likely have a negative margins by the end of this year. The stock price has a lot of uncertainty, there is no trend in operating and financial metrics. I recommend potential investors take a look at this company by the end of this year.