The rally in uranium spurred by speculation of further sanctions against Russia is poised to unravel as a supply surplus builds with the end of a labor strike at the world's biggest mine in Canada.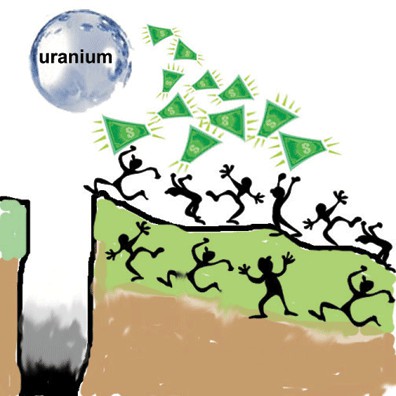 Prices jumped as much as 31 percent in New York from a May 20 low of $28 a pound, according to data from Ux Consulting Co. in Roswell, Georgia, which provides research on the nuclear industry. The advance will end in the fourth quarter, the median of four analyst estimates compiled by Bloomberg shows, amid a surplus equivalent to about 23 percent of annual purchases by the U.S., the biggest atomic-power producer.
The glut is forecast to continue for a sixth year even after production shutdowns from Australia toAfrica and the strike at Cameco Corp.'s McArthur River operation in Canada. Prices surged amid speculation that Russia, the largest provider of enriched uranium that's used by global utilities, may face sanctions on the sale of the fuel because of its encroachment in Ukraine.
"There are quite a few in the market who view another drop in prices this year as quite plausible," Jonathan Hinze, a senior vice president at Ux Consulting, said by e-mail on Sept. 18. "It's too early to tell if this price increase is based solely on fundamental factors, or is just a bit of a bubble."
The McArthur River strike that prompted Cameco to start shutting the plant on Aug. 27 may be affecting about 900,000 pounds of output, Rob Chang, the head of metals and mining at Cantor Fitzgerald LP in Toronto, said in a Sept. 12 note. A provisional agreement between the workers union and the company earlier this month is "negative" for the market, he said.
Market Glut
Cantor estimates a uranium market surplus of 13.2 million pounds in 2014 while Raymond James Ltd., a financial adviser, on Aug. 27 forecast an overhang of about 10 million. U.S. utilities purchased 57 million in 2013, data on the Energy Information Administration website shows.
Uranium rose to $36.75 a pound on the New York Mercantile Exchange on Sept. 18, the highest settlement since July 2013, and has averaged $32.01 this year. It closed 15 cents higher at $36.65 yesterday. The atomic fuel advanced 13 percent in August, the most since January 2011.
Prices slumped as much as 60 percent after the Fukushima disaster in 2011 led to the shutdown ofJapan's nuclear reactor fleet, prompting the world's biggest producer, Kazakhstan, to halt all output expansions. Paladin Energy Ltd. said it would close its Kayelekera operation in Malawi until uranium climbs above $70 a pound, while Russia's Atomredmetzoloto shut the Honeymoon mine in Australia last year.
Ukraine Unrest
Additional material from the spot market was removed after Uzbekistan agreed to sell uranium to countries such as China under contract, according to Edward Sterck, a London-based analyst at Bank of Montreal.
Speculation that supplies of enriched uranium from Russia will be disrupted due to its ongoing dispute with Ukraine could support prices.
"There's slightly less material available to sell into the spot market than there was previously, and uncertainty around the ongoing situation in Ukraine," Sterck said by phone on Sept. 19. "Some U.S. utilities in particular are really quite exposed to Russian enrichment."
U.S. utilities purchased about 20 percent of their enriched uranium from Russia last year, while power producers in the European Union sourced about 36 percent from the nation, Macquarie Group Ltd. said in a Sept. 5 note. Most of the 500 commercial reactors operating or under construction require the processed fuel, according to the World Nuclear Association website.
Russian Capacity
Russia, which accounted for more than half of global enrichment capacity in 2013, is locked in a standoff with its former Cold War adversaries, who accuse President Vladimir Putin of supporting pro-Russian rebels in eastern Ukraine. Putin has denied the allegations, as the EU and the U.S. step up economic sanctions and Ukraine accuses him of seeking to restore the Soviet Union.
"This rally is due at least partially to temporary news items," David Talbot, an analyst at Dundee Capital Markets Inc. in Toronto, said by e-mail on Sept. 18. "Russian risk is simply a risk at this point. The spot market is getting tighter."
Japan, once Asia's biggest producer of atomic power, in July vouched for the safety of two reactors in Sendai, the first to pass inspections. The nation is seeking to restore nuclear output as its energy bill balloons on the reliance of fossil fuels such as liquefied natural gas to fill the gap.
Japanese Nukes
The country started its first summer in 48 years without nuclear power in 2014. Japan produced13.9 billion kilowatt-hours of electricity from atomic plants in 2013, compared with 280 billion in 2010, according to the World Nuclear Association. The U.S. generated 790.2 billion last year.
While there are signs of reactor restarts in Japan, the level of inventory still held by utilities may affect sentiment, Joel Crane, an analyst at Morgan Stanley in Melbourne, said in an Aug. 28 note.
Uranium price forecasts for the fourth quarter ranged from $30 to $35 a pound, according to estimates from four banks compiled by Bloomberg since July.
Tension in Ukraine and the suspension of operations at McArthur River have supported prices, Australia's Bureau of Resources and Energy Economics said in a report today. It forecasts uranium will average $32.10 a pound this year.
The fuel gained 3.2 percent on Aug. 27, the most since December 2012, after Cameco moved to temporarily shut the McArthur River mine. Voting on a new labor agreement will happen once workers are back on the job, the United Steelworkers said Sept. 12. The Saskatoon, Saskatchewan-based company started shutting down the operation after receiving a strike notice from the union, it said Aug. 27.
"Whether this trend continues is hard to tell," Hinze from Ux said. "If those entities currently holding inventories realize that near-term demand is unlikely to grow much, we could easily see some dumping on the market, and that would likely push prices downwards again."