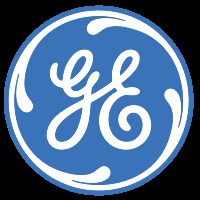 Shares of the huge U.S. conglomerate General Electric (GE) are soaring today, up over 9% and counting on news that the company is going to divest its controversial GE Capital division.  I have been advocating such a move ever since the division nearly caused the entire company to implode during the recent financial crisis.  The signals that GE Cap was on the chopping block have been there for a while for those who were paying close attention.  Back in March after GE announced that it was going to split off its retail finance unit Synchrony Financial (SYF). At the time, I wrote positively about the company in my on-line special situations portfolio (TMFDeej at Motley Fool CAPS) saying the following:
GE's recently announced spinoff of its North American retail finance unit is evidence that the company is making an effort to reduce its exposure to GE Capital, a unit that I've never personally been all that fond of. I view the move as a positive...I just think that the sum of the parts for GE has to be worth more than the whole at this point. There's some amazing pieces that make real things, health care, industrial, etc... GE Capital still seems somewhat opaque to me.
While Synchrony is a special situation...a spinoff, which normally is my bread and butter, I decided to pass on buying shares of the newly independent company because I wasn't wild about the consumer lending sector.  Apparently, I should have cast my concerns about consumer credit aside and hoped on for the ride because SYF is up over 30% since going public.  I told you that spinoffs are good stuff ;).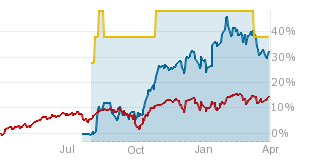 A twelve month chart of SYF (blue) vs. the S&P 500 (red)
An even bigger signal that the GE Cap divestiture was coming came yesterday afternoon when news broke that General Electric was on the verge of selling its $30 billion real estate portfolio.  When I heard that news I considered adding to my GE position.  Alas, I did not.  I figured that I had time.  After the announcement of every shrewd move that GE has made over the past couple of years, Mr. Market has essentially yawned.  Prior to today's move the stock had dramatically underperformed the S&P 500 over both the past one and two years.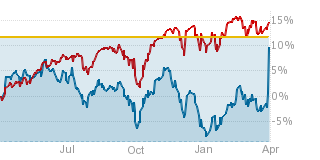 A twelve month chart of GE (blue) vs. the S&P 500 (red)
Even after today's surge in GE's stock I think that it is attractive.  Yes, as a U.S. manufacturer the company is certainly facing some strong headwinds as a result of the surge in the U.S. dollar.  Still, the positives for the company outweigh the negatives .  Eliminating GE Capital, should both remove the taint that the division brought to General Electric after its past issues as well as help to lessen the conglomerate discount that is usually assigned to companies with extremely diverse operations.  Furthermore, the sale of GE Capital's assets and operations along with the repatriation of billions of dollars of overseas profits (even if there is a massive tax bill associated with the repatriation) will enable GE to buy back a massive number of shares and to go on the hunt for accretive acquisitions.  While the strong dollar will hurt GE in terms of its short-term profits, it actually might end up being beneficial to the company in the long-run if it enables it to purchase high quality foreign companies on the cheap.
Of course, the sale of GE capital is not without some negatives.  While it's a problem during bad times, during good times GE Capital is tremendously profitable.  During the economic recovery of the past four years, the division accounted for more than half of GE's entire after-tax income. Fortunately, GE has been gradually reducing its dependence upon the division over the same time period, with GE Cap's revenue has dropping by over 14% while the rest of GE's revenue growing over 9%.
GE's stock is reasonably cheap, at 18.7x earnings versus a multiple of 20.5 for the S&P 500.  According to Reuters, that gap widens even further if one looks at forward earnings (I usually don't), which GE trades at only 14.3x, cheaper than 75% of the S&P 500 companies and many of its industrial competitors including United Technologies (UTX) and Boeing (BA).  Add a solid (particularly in today's low rate environment) 3.7% dividend to the mix and I consider GE to be a Buy.
GE TO CREATE SIMPLER, MORE VALUABLE INDUSTRIAL COMPANY BY SELLING MOST GE CAPITAL ASSETS; POTENTIAL TO RETURN MORE THAN $90 BILLION TO INVESTORS THROUGH 2018 IN DIVIDENDS, BUYBACK & SYNCHRONY EXCHANGE

High-value industrials to comprise more than 90% of GE earnings by 2018
Plans to retain financing "verticals" that relate to GE's industrial businesses
Announces sale of GE Capital Real Estate assets for approximately $26.5 billion
Will work with regulators to terminate GE Capital's SIFI designation
GE to take approximately $16 billion after-tax charge in 1Q'15, $12 billion non-cash
Industrial businesses remain on track for operating earnings per share of $1.10-$1.20 in 2015, in line with expectations
GE expects to get approximately $35 billion in dividends from GE Capital from this plan
Board authorizes new buyback program of up to $50 billion