The company comprises the global snacking and food brands of the former Kraft Foods Inc. following the spin-off of its North American grocery operations in October 2012. Mondelez International's portfolio includes several billion-dollar brands such as Cadbury and Milka chocolate, Jacobs coffee, LU, Nabisco and Oreo biscuits, Tang powdered beverages and Trident gum.
1) Financial analysis



Mondelez financial indicators do not cause special attention, because not much differ from its competitors. Current P / E index is equal 8.32, but it is not "real", as it is related to the recent sale of the coffee business that gave 5$ billion cash. The forward PE of 22.70x is a bit high, but the PEG ratio 0.94x paints a fair picture. Experts are expecting 9% average year growth in the coming years.
As regards the sale of the coffee business, we can say that investors positively evaluated the event. The report for the last quarter mondelez's reported on the fall in revenue and earnings as compared to the same quarter last year due to coffee business sell-off, but surpassed the estimate by $40 million.

2) Market conditions

In its earnings release on May 7 of this year, Mondelez International announced that its board of directors had approved $2.2 billion of capital expenditures over the next four years. Its goal for the overall 2014-2018 restructuring program is to invest in ways that save the company a minimum of $1.5 billion per year by the year 2018.
Despite the fact that companies from the consumer sector is usually protected from market conditions a bit more than others, business mondelez suffers from some external factors.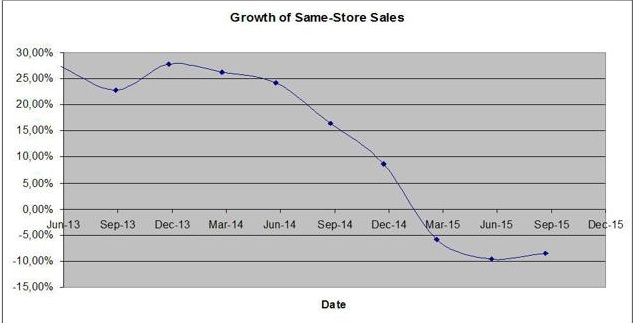 Firstly, snacks (chocolate) takes the lion's share of Mondelez's brands ortfolio. This means that the company is dependent on the price of cocoa. A Cocoa, in turn, is now trading at almost 3500, which is close to historical highs. Secondly, there is now a global trend of increasing proper nutrition. Certainly fashion for a healthy diet harms "sweet" business. But I am sure that this problem is likely temporary, and if not, then it is solved through acquisitions.
Mondelez's TV ad spending fell 18% alone in 2014, Mondelez intends to double the spending on digital media, which will represent roughly 30% of the total media spending globally by 2018. Similarly, the company is planning to boost the e-commerce contribution to 10% of its total sales revenue by 2020. Apparently the company is not scattered money, saving money on ineffective TV ad, and expanding area of internet promotion.
3) Technical analysis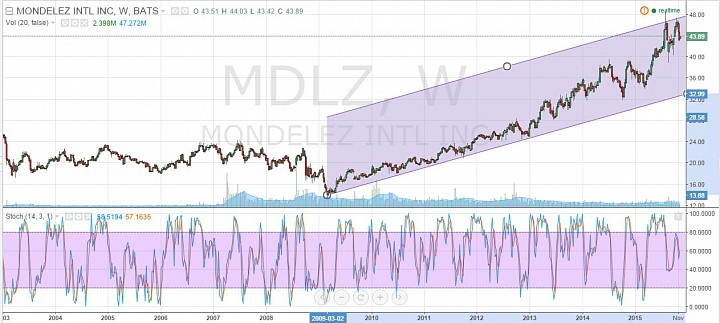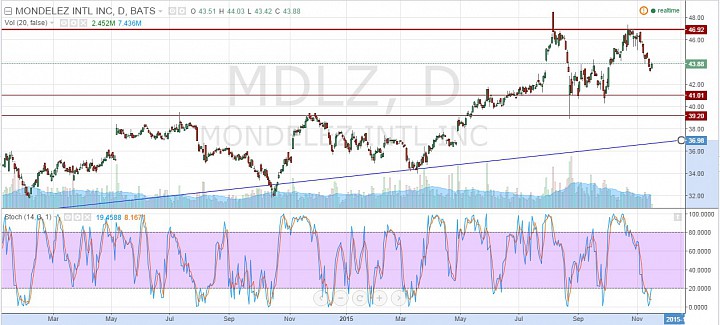 As we can see, the paper is in a strong uptrend since 2009, bringing stable profit to its shareholders. Locally based on stochastics, now is a good time to buy. Oversold passed the peak and began a local upward movement. In the short term the price will reach $ 46.9. In the long term, the paper sooner or later to break the resistance level of $ 47, as its revenue in emerging markets is growing steadily. The growth of the global middle class (the target audience of the company) had not exhausted its potential. In this regard, demography plays a hand. The basic levels of support prices will be $ 41 and $ 39. Thus, for a long long position is best to buy from these levels.
4) Conclusion
Mondelez is a paper which is good because is not large enough, and therefore has good potential of growth. At the same time the company is big enough, and has sufficient experience and a margin of safety to overkome unexpected problems. So, we suggest long asap.