While no chart could have possibly predicted the populist outcry against Martin Skreli's widely publicized, and panned, decision to crassly boost the price of a Toxoplasmosis drug by over 5000% (doing something all other biotech companies have been doing but with all the grace of a bull in a china shop thus prematurely ending the party for everyone) only to promptly undo his decision following a furious public backlash which also resulted in Hillary Clinton proposing a price cap on specialty drugs and unleashing the worst drop for biotech stocks in 2015, now that concerns about a biotech top are in play, the biotech sector just can't seem to catch a bid, and as of moments ago was down over 3% dragging the Nasdaq just barely positive for the day even with the S&P up 0.8%
One reason for the continuied weakness may be that, as Bank of America points out, there are signs the dreaded head and shoulders top has appeared in the Nasdaq Biotech Index.
While on its own this would be completely irrelevant, as fundamentally-driven investors would be quick to object, the fact that it is none other than technicians and chartists who have been instrumental in pushing biotech stocks to their recent nosebleed levels, it will be the same "chartists" who will be scrambling at any bearish signals on the way down (furthermore, for the biotech sector where for 90% of the companies it is all hype and technicals, there is no "fundamentals" to speak of).
Such as this one.
More from BofA's Stephen Suttmeier:
Biotech struggles & shows signs of a head & shoulders top

 

The NASDAQ Biotech Index (NBI) shows signs of a distribution top with the risk for a deeper pullback. Unlike pullbacks in 2014, the August/September 2015 drops have struggled to hold the 200-day moving average (MA). The rally from late August looks corrective and has stalled with the 200-day and 50-day MAs at 3638-3801 starting to act as resistance. We cannot rule out a head and shoulders top and pushing below 3410-3380 would break the neckline and uptrend line from 2014 to confirm this pattern. This would suggest deeper risk to 3181 (August low) and then 3000-2860. It would take a break above 3828-3902 to completely negate the risk of a head and shoulders top.

 

NBI is weakening vs. the S&P 500 & leadership at risk

 

The NBI is weakening relative to the S&P 500 and is a market leadership group at risk. The group could experience a deeper correction within a long-term relative uptrend.

 
Some furhter stock-specific details:
Alexion (ALXN)
ALXN has stalled on an absolute and relative price basis. The relative ratio vs. the S&P 500 did not confirm the new highs for the stock in late 2014 and early 2015. ALXN is testing big support at $155-150 and should this give way, the risk is for a deeper drop to $140-136 and potentially $120. The $180-185 area provides initial resistance.
Amgen (AMGN)
AMGN has broken below key support at $152-147, placing the uptrend from 2011 into focus near $140. Should this give way, AMGN could see a deeper drop to $128-127 and then $110. Holding below $156-160 keeps the immediate bias bearish.

Biogen (BIIB)
BIIB remains risky with a big downside gap that is acting as resistance. While below chart resistance at $327-338, the immediate risk remains for a decline toward $250 and potentially below. BIIB is at risk for a big breakdown relative to the S&P 500.
BioMarin (BMRN)
Filling the June price gap suggests upside exhaustion. BMRN shows signs of a top and has started to weaken relative to the S&P 500. The big support comes in at $118-111, where a decisive break would confirm a top and set up a deeper decline to $100 and then $84-80. It would take a break above $133-137 to improve the pattern for BMRN

Celgene (CELG)
CELG has filled the mid-July price gap to suggest upside exhaustion. While the absolute and relative price trends are still up, the rally off the August low has stalled with risk for a retest of supports at $106 and $96-95. Additional support: $87-83. The chart pattern for CELG is risky while below $125-130.
Gilead (GILD)
GILD shows key support near $100. A failure to hold would set up a deeper drop to $92- 91 and $85-84. It would take a move above $113-117 to firm up GILD's chart pattern. GILD/SPX is still bullish but that would change if GILD broke $100 and the relative ratio  confirmed the break with a loss of the early Sep low and uptrend line from late 2014.

Illumina (ILMN)
After gapping down in late July, ILMN has weakened and shows signs of a top. The key support is $183-179, where a decisive break would confirm a top and favor a deeper drop to $157-145. This move would likely break key relative support that goes back to early 2014. Holding below $200-214 keeps us concerned about ILMN's chart pattern.
Incyte (INCY)
INCY is stronger chart among the 10 Biotech charts we are highlighting. The near-term key is holding chart and uptrend support at $113-109. Should INCY lose this level, it would increase the risk for a drop to $101-96 with additional support near $87. The relative ratio for INCY vs. the S&P 500 is still strong but correcting.

Regeneron (REGN)
REGN is holding up better with a stronger relative ratio vs. the S&P 500 than many other Biotech names but the stock shows an exhaustion gap and may be forming a head and shoulders top. A sustained break below $495-482 is the catalyst to confirm this pattern and set up a deeper decline to $433 to $390. Resistance comes in at $544 to $570.
Vertex (VRTX)
VRTX has weakened to break support at $114-113 with the next support at $103.75. Resistance is building between $125 and $137 and rallies that do not regain this area keep us concerned about the chart pattern for VRTX with the potential for a deeper decline toward $88-87. The relative ratio for VRTX is pulling back within an uptrend and confirming the recent weakness in the stock.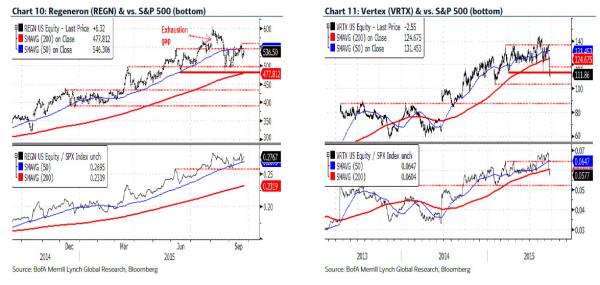 * * *
Finally, should the biotech weakness extend and drag the Nasdaq lower, not even the technical buying predicted by JPM's head quant yesterday may be enough to keep the broader market bid up for the remainder of the day.