shares of HIMX is retreating this week and might fall back below 10.00. However, outside of any near-term or short-term bearish correction, I think HIMX has established a bullish bias. 

HIMX Daily Chart 9/7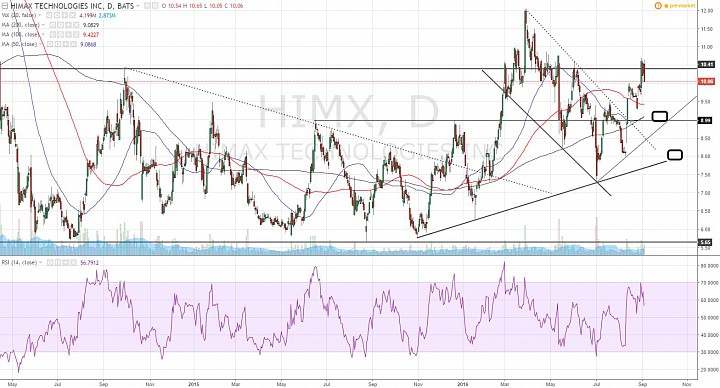 (click to enlarge)
Price bottom:
- First thing we can see in the daily chart is a descending triangle consolidation that went from late 2014 throughout 2015. 
- Price did pop up late 2015 and surged early in 2016 until it tagged 12 in March/April. 
Confirmations:
- The market is choppy, and the retracement from 12.00 was deep. 
- However, it did essentially respect the middle of the triangle as support, which means it respects the triangle as a price base.
- Also, price bounced off a rising trendline, showing that bulls are beginning to take charge .
- Finally, price has broken above the April through July correction pattern, which was something like a channel. 
Support for bearish correction:
- It seems like price is indeed now making higher lows and higher highs.
- The RSI has been swinging above 70 but back below 30, showing that momentum is still choppy although direction is developing "up".
- If price retreats below 10.00, look for it to maybe extend to 9.00. 
- Here we will see a combination of support factors that will include the 200-day simple moving average (SMA), a rising speedline, and a previous resistance pivot that could turn into support.
- Also, monitor the RSI if it stalls at 40. If it holds above 40, it might finally start to develop some bullish momentum. I think this can happen if the market also sees that HIMX has turned it around in 2016 after more than a year of "accumulation" .
Failure:
- A break below 7.25 would essentially break the higher lows pattern. Even a break below 8.00 would violate the bullish outlook. 
- Price between 8.00 and 9.00 would be in limbo. 

So to recap: 
- Watch for some bearish correction.
- Look for support around 9.00. 
- Shelf the bullish outlook if price drops below 9.00. More so if it falls below 8.00.
- A break below 7.25 signals failure of a bull market, and puts pressure back towards the 5.65-6.00 area with risk of falling lower because of the failed bullish attempt.