The Ford Motor Company (NYSE: F) helped pioneer the moving assembly line. With it, modern manufacturing was born. Today, another visionary, by the name of Elon Musk, is seeking to accomplish just as monumental a feat with Tesla Inc. (NASDAQ: TSLA): the mass shift from vehicles powered by internal combustion engines to those powered by electric batteries.
Both automakers have admirable histories, but which stock is the better buy for Foolish investors today?
Recent share-price performance and valuation
Tesla's shares have surged this year as the company continues to execute on its vision of a mass-market all-electric car: the Model 3. That has sent its shares up almost 42% year to date and its market capitalization to a whopping $50 billion currently. This is impressive, to say the least, especially given that the company sold just over 76,000 cars last year.
Ford shares, on the other hand, have barely budged all year. This is in spite of a forward price-to-earnings multiple any value investor will love: 7.7. The average P/E of the S&P 500 index, of which Ford is a part, sits at over 25, while Ford peers General Motors and Toyota Motor Corp trade at forward P/Es of 7.4 and 10.7, respectively. It's worth noting that Ford's dividend yield has both Toyota's and GM's beat at 4.95%.
Even with its long history of innovation and its ability to produce millions of automobiles, Ford falls short of Tesla's valuation, with a market capitalization of just $47.9 billion. A simple earnings-multiple comparison between the two companies isn't even possible, as Tesla is losing money; let's compare price-to-sales and price-to-book ratios instead:
TSLA PS Ratio (TTM) data by YCharts
Tesla's valuation is off the charts. And a lot has to go right for it to reward shareholders in the future. 
Winner: Ford. 
Dividends and financing moves
Unsurprisingly (since it's still losing money), Tesla pays no dividends. It also continues to issue shares and debt at a blistering pace: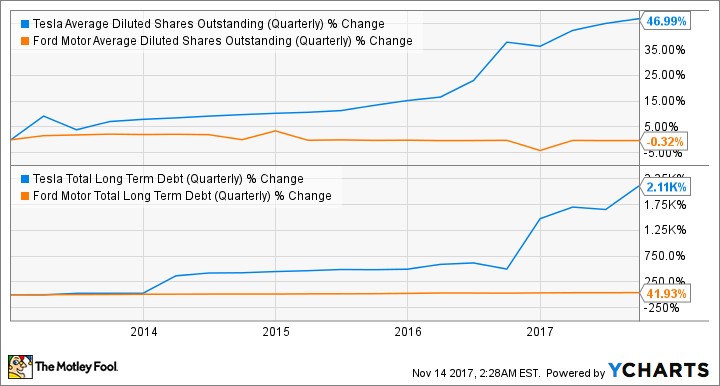 TSLA Average Diluted Shares Outstanding (Quarterly) data by YCharts
Tesla's actions are unsurprising: That's what high-growth manufacturers do. The money required for what Tesla is attempting to accomplish is extraordinary (its first Gigafactory will cost an estimated $5 billion by 2020). However, it is a wild card that investors need to keep in mind. Share issuances dilute ownership, and the per-share value of a stock takes a hit. 
Ford's share count has remained steady in recent years and its dividend yield is extremely attractive at 4.95%. What's more, its dividend appears to be on solid footing. Its 58% payout ratio means that it is only paying out 58% of its overall earnings in dividends. 
Winner: Ford.
Growth prospects and risks
This is where things get dicey. Tesla is obviously expected to grow revenue at a much faster rate than Ford in the future. However, it is starting from a much smaller base. The real question for investors is how to properly handicap Tesla's growth for the obvious risks. The potential outcomes to Tesla's growth tale are about as varied as a company can have. Some investors, like billionaire Ron Baron, believe Tesla is on a path to greatness and that its share price will reach $1,000 by 2020.
Tesla also dominates the electric-vehicle market in the U.S.
The total of 76,000 cars that Tesla sold last year is just a speck compared to the 6.65 million sold by Ford. Tesla habitually loses money and hopes to one day meet (at best) the gross-profit margins on a per-car basis of traditional automakers.
Musk's Tesla may be the tech-savvy start-up leading the way to an electric-car-driven future, but Ford is doing everything it can to become a cutting-edge automaker as well. Its new CEO, Jim Hackett, was brought in to drive a focus on technological innovation. And Ford already has the following initiatives well underway:
The mass production of self-driving cars by 2021.
The production of advanced drivetrains specifically designed for electric vehicles. 
A smart-mobility subsidiary, a move echoed by General Motors. The division will lead the charge into things like automotive connectivity, autonomous driving, and data analytics.  
Plans to sell cars to ride-hailing services like Uber and Lyft.  
Ford's moves are laudable in the face of disruption from companies like Tesla. But investments in driverless technologies are a defensive move. Ford has to make them in order to keep up with its competition. To win this category, Ford would have to start beating Tesla at its own game. 
Winner: Tesla.
And the winner is...
Ford. It's a tough call, and the success of Tesla may very well prove a huge negative for our winner. But there is also the possibility that Tesla will co-exist with the Big Three automakers in an America with driverless, all-electric cars wherever you look. Ford's valuation, yield, and inroads into the mass production of such vehicles make it the better bet here. 
10 stocks we like better than Ford
When investing geniuses David and Tom Gardner have a stock tip, it can pay to listen. After all, the newsletter they have run for over a decade, Motley Fool Stock Advisor, has tripled the market.*
David and Tom just revealed what they believe are the 10 best stocks for investors to buy right now... and Ford wasn't one of them! That's right -- they think these 10 stocks are even better buys.
Click here to learn about these picks!
*Stock Advisor returns as of October 9, 2017
Sean O'Reilly has no position in any of the stocks mentioned. The Motley Fool owns shares of and recommends Ford and Tesla. The Motley Fool has a disclosure policy.