It appears today's weakness in stocks (most notably high-beta momo) and bonds (HY credit weakness) was triggered by two "ma"s - grandma Yellen and grand-poohbah BABA's Ma. Hawkish FOMC concerns took the shine off HY credit (and stocks) but Treasury bonds rallied modestly (5Y -3bps, 10Y -2bps). However, high-beta momo stocks dragged Nasdaq and Russell lower as 'smart money' proclaimed this was making room for the Alibaba IPO (which raises the question - if there is so much pent-up demand money on the sidelines just dying to be lost in the stock market, then why were so many high-beta, high-growth, momo names being sold today, theoretically in order to make room for the BABA IPO?) The USDollar ended marginally higher (GBP weakness, EUR strength) but most commodities gained on the day (Copper down on China) with WTI back to $93. Stocks did have a mini-melt-up on absolutely no news whatsoever into the last hour but gave most back. The Russell 2000 is -0.5% in 2014.
 
A look at the futures market reaction to the good news (Empire Fed) and bad news (Industrial Production) shows neither had any impact on stocks.
High-beta stocks led the Nasdaq and Russell lower on the day (and Dow 'safety' higher)...right from the US open... The Energy sector was the leader on the day (as oil rose) and Chevron added 12 points to The Dow alone...

Notably The Russell 2000 once again broke its major technical support and bounced (50-, 100-, and 200-DMA)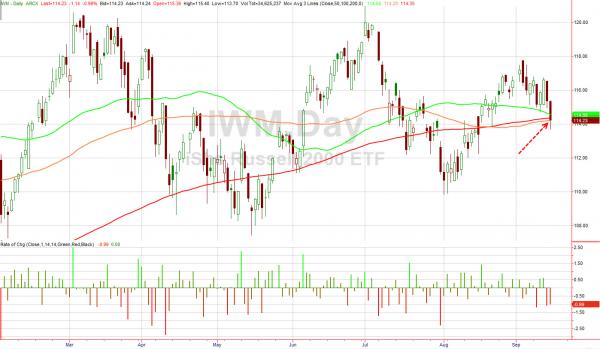 And "Most Shorted" was weak but squeezed late on...NOTE - the buying panic that occurred around 1400ET...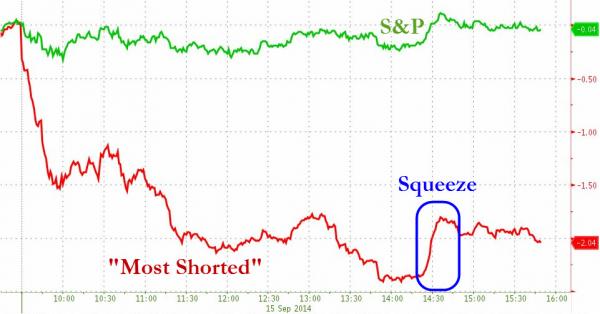 HY Credit broke early - squeezed with everything else - then reverted wider again...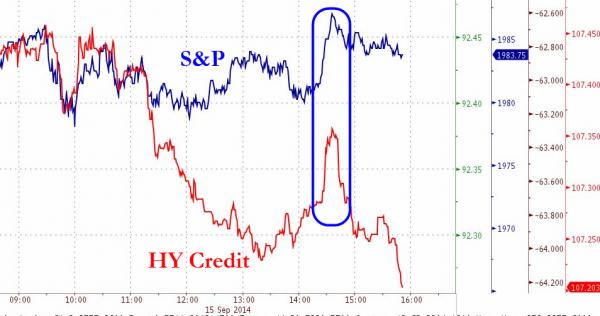 VIX also decoupled into the close - after being abused for the ramp...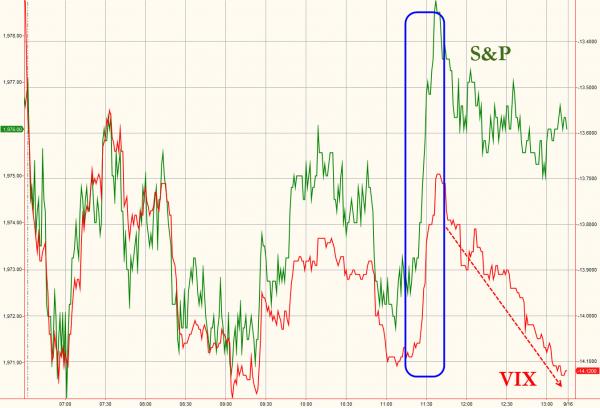 FX markets were relatively calm - modest weakness in GBP (after 38.2% retracement bounce of Scottish poll weakness) and EUR strength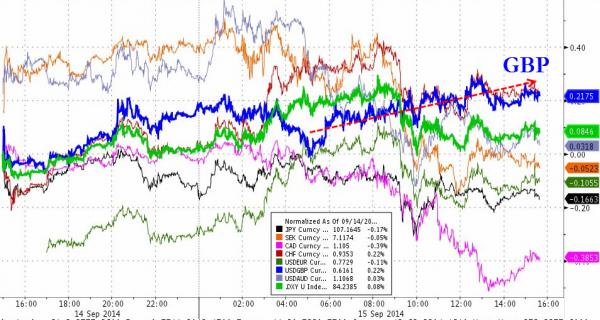 AUDJPY seemed in some control over stocks - but correlations to JPY carry are breaking down in general...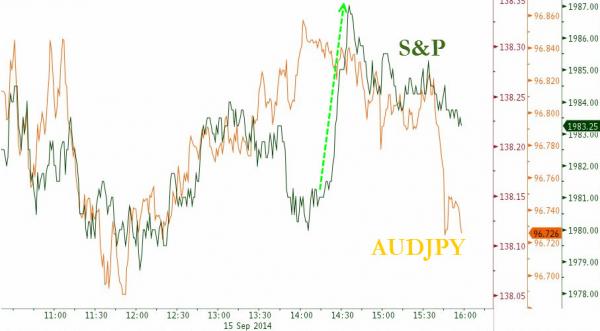 Treasury yields fell on the day (short-end outperformed) after weak industrial production data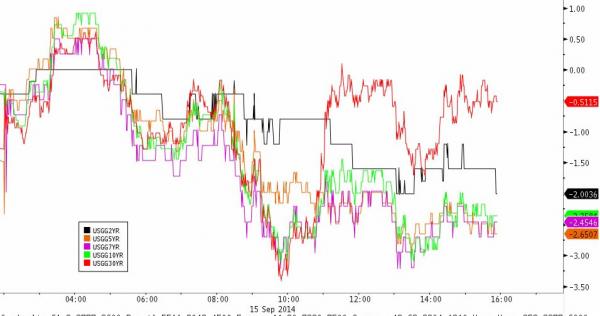 Commodities rose despite small gains in the dollar, WTI over $93 and Gold $1235, Copper slipped further after China weakness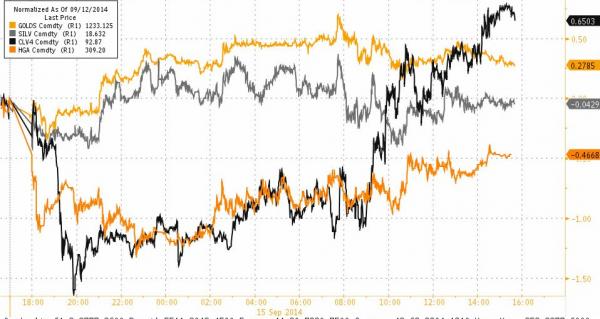 Charts: Bloomberg