If you'll pardon the expression when speaking about a defense contractor, Lockheed Martin (NYSE: LMT) is sticking to its guns.
Three months ago, after reporting an earnings beat for its fiscal second quarter, Lockheed Martin raised guidance for the rest of this year by $0.15, predicting that it would earn between $12.30 and $12.60 per share. Three months later, Lockheed Martin has just reported an earnings miss -- but it's raising guidance yet again.
Here's how that story goes.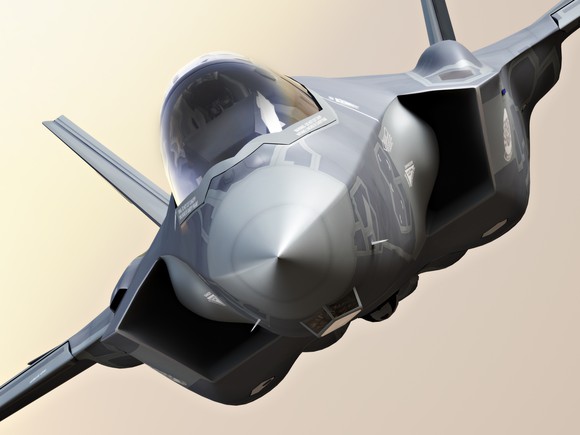 Investors got an up-close look at the F-35 fighter jet maker on Tuesday -- and didn't like what they saw. Image source: Getty Images.
The headline numbers
Lockheed Martin reported  its Q3 2017 earnings results on Tuesday morning. As management related, Lockheed grew its sales 5% year over year, to $12.2 billion, and shed 200 basis points of operating profit margin, which declined to 11.7%. Net income declined by 61%, falling to $939 million, and earnings per diluted share plummeted 59% to land at $3.24.
Most of the profit decline was due to the absence of "discontinued operations" from Lockheed Martin's results this year. Still, much of the missing profit, and a large part of the profit margin decline as well, can be laid at the door of Lockheed Martin's space systems division. Space systems suffered the biggest drop in operating profitability of any of Lockheed's four main divisions, falling from a heady 19.7% last year to just 9.7% in this year's Q3.
Are you ready for a bounce back?
Yet despite the disappointing numbers (and the disappointed reaction of investors), Lockheed Martin management put a brave face on the results. Regarding the sales miss that hurt results at space systems, Lockheed CFO Bruce Tanner  called this a mere "timing-related shortfall" that "will be more than made up for during the fourth quarter."
Matching numbers to words, Lockheed Martin then proceeded to double down on last quarter's guidance increase. According to management, sales now look likely to come in $200 million ahead of previous projections by year's end, ranging from $50 billion to $51.2 billion. Furthermore, Lockheed expects to make up its margins slippage and more, saying that earnings per share will range from $12.85 to $13.15 for the full year -- a whopping $0.55 more than management had previously promised.
Oh, and in further evidence that management thinks everything is going swell, Lockheed Martin raised its dividend to an even $2 per share per quarter, giving its stock a 2.6% dividend yield.
How will it do that?
So how does Lockheed Martin hope to turn a Q3 sales and earnings miss into a big win in Q4? Partly by continuing to ramp up its F-35 Lightning II stealth fighter jet program. So far this year, Lockheed Martin has already delivered 44 Lightning IIs to U.S. and international customers, a nearly 50% acceleration from the 30 planes produced by this point last year. Q3 saw that production rate acceleration hit 50% on the nose, with 15 planes produced, versus just 10 F-35s delivered in Q3 of last year.
As F-35 production ramps up and achieves scale, profit margin on the planes should also improve, and revenues will rise as well. Looking out to 2018, management sees sales growing 2% next year, with operating profit margin of about 10.4% -- a few dozen basis points ahead of what it's earning now. 
What it means to investors
So what is the upshot for investors? Based on management's predicted profits of about $13 a share this year, Lockheed Martin's stock still looks pretty pricey to me, at a valuation of 24 times earnings. Free cash flow is stronger now, admittedly, and the stock's price-to-free cash flow is a more palatable 19.4 times. Yet, even so, analyst predictions of sub-7% long-term profits growth, and Lockheed Martin's own prediction that sales will grow a mere 2% next year, tell me that Lockheed's premium valuation is not warranted.
Even assuming everything plays out just as Lockheed Martin management is predicting, and Lockheed bounces right back in Q4, I think this stock costs too much, and I would not be a buyer today.
10 stocks we like better than Lockheed Martin
When investing geniuses David and Tom Gardner have a stock tip, it can pay to listen. After all, the newsletter they have run for over a decade, Motley Fool Stock Advisor, has tripled the market.*
David and Tom just revealed what they believe are the 10 best stocks for investors to buy right now... and Lockheed Martin wasn't one of them! That's right -- they think these 10 stocks are even better buys.
Click here to learn about these picks!
*Stock Advisor returns as of October 9, 2017
Rich Smith has no position in any of the stocks mentioned. The Motley Fool has no position in any of the stocks mentioned. The Motley Fool has a disclosure policy.