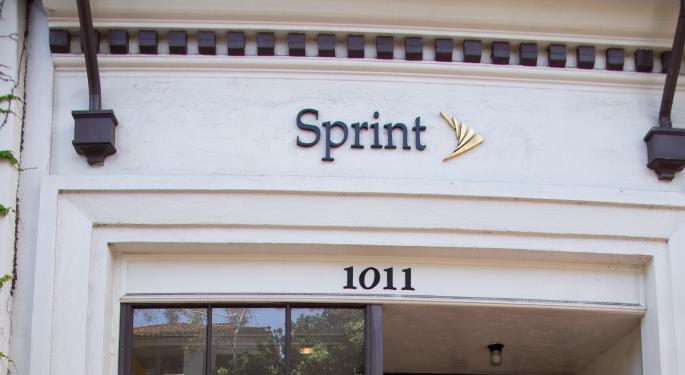 Sprint Corp S 0.38% stock has had quite the month. The wireless carrier's stock price has shot up 27 percent since Election Day on November 8 due to speculation that a Trump administration will be more lenient regarding a potential merger between the company and T-Mobile US Inc TMUS 0.71%.
Equity Incentive Set To Kick It At $8
Share prices are just shy of the $8 mark, a significant target because of Sprint's "Turnaround Incentive Award Grant," which gives CEO Marcelo Claure 10 million shares once the stock surpasses this level. Sprint shares have not been at $8 since July of 2014 and were trading as low as $2.45 in early 2016.
According to Fierce Wireless, "The 10 million shares will only be earned upon the achievement of specified volume-weighted average prices of Sprint's common stock during regular trading on the New York Stock Exchange over any 150-calendar day period during a four-year period from June 1, 2015, through May 31, 2019." Not only is the plan tied to the CEO's performance, all of Sprint's employees have an incentive package tied to the wireless carrier's turnaround, offering equity when the stock price hits the $8 price market, giving every reason to not only hit its target but make the turnaround stick for the long term.
Trump Administration: Bad For FCC, Good For Telecom
Many investors see Sprint's majority owner, Softbank's owner and billionaire Masayoshi Son as another catalyst for the company and have high hopes for his American telecom investment. With Trump's advisor Mark Jamison adamant about eliminating most of the FCC and handing off its functions to other agencies, this could certainly boost share prices of telecom stocks in the short term.
"Telecommunications network providers and ISPs are rarely, if ever, monopolies," and in cases where they are monopolies, they can be regulated by the FTC and states, Jamison wrote in his blog post on whether the FCC is still necessary.
With Sprint shares trading at $7.86 at last check, it is just a matter of time before the company hits its target and the equity sharing plans start to kick in.
Sprint shares are up 119 percent year-to-date.
Image Credit: Thomas Camargo [CC BY 3.0], via Wikimedia Commons
© 2016 Benzinga.com. Benzinga does not provide investment advice. All rights reserved.