Two weeks ago, we showed readers an example of just how sharp the drop in the high-end housing segment has been in Manhattan, courtesy of J. Crew CEO Mickey Drexler, who had slashed a whopping $15 million, or 40%, from the asking price of his Tribeca loft after it languished on the market for close to two years, unable to find a buyer. The 6,226-square-foot spread had recently reappeared for sale with a $19.95 million price tag, far below the original $35 million it was first listed for in April 2015.
It has yet to sell.
However, contrary to speculation that this sharp plunge in prices and demand for luxury real estate was solely a New York phenomenon, Mansion Global writes that billionaire Jeff Greene has put his Beverly Hills home "Palazzo di Amore" back on the market last Friday, asking  $129 million. This amounts to a $20 million cut from when the home was last listed two years ago, and a whopping third, or $66 million, discount off the original price of $195 million in 2014.
When the 25-acre property first hit the market in 2014 for $195 million, it became the most expensive home for sale in the U.S., according to public records. It also top-ticked the market, and as the latest price confirms, was overvalued by at least a third.
According to Mansion, Greene, 62, a real estate investor with an estimated net worth of $3.4 billion, married Mei Sze Chan, in 2007 at the Mediterranean-style villa, named "Palazzo di Amore," Italian for "Palace of Love." They listed the property in 2014 and then again in 2015, with a $49 million price chop in between. After failing to find a buyer, they removed the house from the market and offered it as a rental for $375,000 a month, according to the listing history.
"We tested the market in 2014, asking $195 million for this unique property, but now it's a better time to come on the market," said Stacy Gottula, director of the Estates Division at The Agency, who is co-listing the property with the firm's founder, Mauricio Umansky.
Ms. Gottula noted that there were three big-ticket sales in Los Angeles in 2016. Hugh Hefner's Playboy Mansion was bought by Daren Metropoulos, the son of billionaire investor C. Dean Metropoulos, for $100 million. The price record was matched by a Holmby Hills property, purchased by Platinum Equity founder and Detroit Pistons owner Tom Gores.  A slightly less expensive property, Owlwood Estate, sold for $90 million.
Besides, Los Angeles currently boasts the most expensive home in the U.S., according to Realtor.com. A mega-mansion developed by luxury developer Bruce Makowsky was listed at $250 million in January.
"We are actually seeing buyers in this price range now," Ms. Gottula said. She said that Mr. Greene, who is not spending a lot of time in Los Angeles, is also more motivated to sell.
Judging by the collapse in the ultra-high end market, some would be tempted to call out "fake news" on Ms. Gotulla.
* * *
So what does $129 million buy? To begin with, it is one of the largest residential compounds in Los Angeles, built by developer Mohamed Hadid.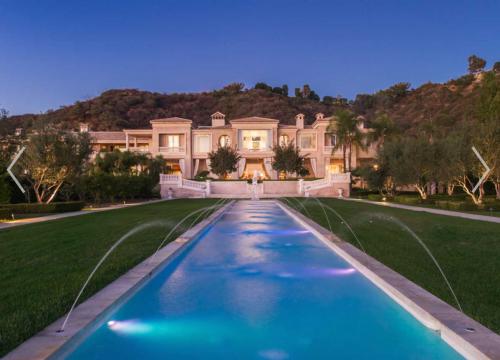 There are a total of six structures on the premises. The 43,000-square-foot main residence features 12 bedrooms, 23 bathrooms and "rooms too numerous to name," according to the listing. Outdoors, there is a pool, a spa, a barbecue station, a tennis court with a tennis pavilion and a full guest house, all divided by manicured gardens and fountains.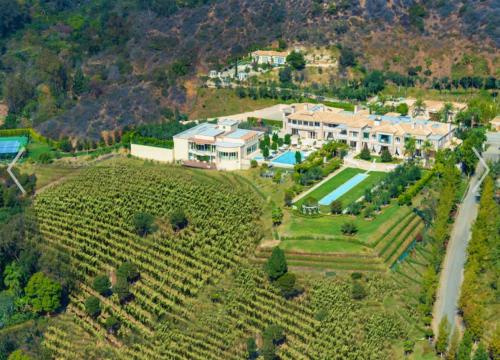 The 15,000-square-foot entertainment complex includes a state-of-the-art DJ booth with a revolving dance floor and laser-light system, a two-lane bowling alley, game room, and a movie theater that seats more than 50 guests.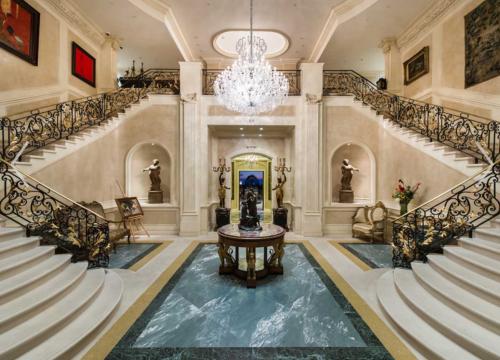 A vineyard on the property produces about 400 to 500 cases of wine each year for Mr. Greene's private collection. He has two wine cellars that store up to 13,000 bottles.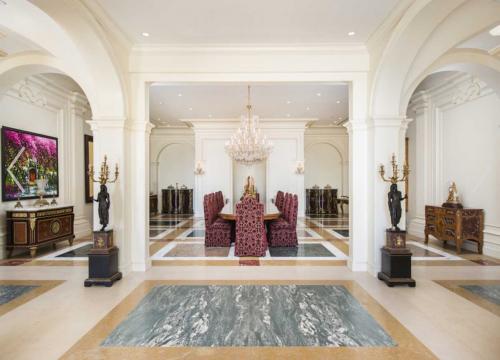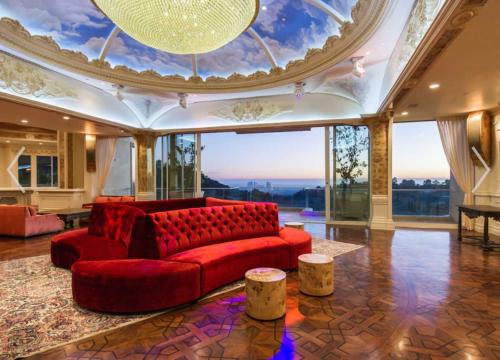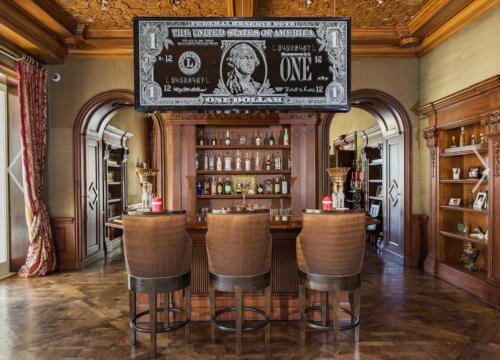 "This is no other grand-scale property overlooking city lights in Los Angeles," Ms. Gottula added, noting that the property is still available for rent at $375,000 a month. And if you dial in the next 10 minutes, she will even take off another $1,000 from the price.