Summary
Valeant Pharmaceuticals' fulfillment agreement with Walgreens may not prove to be as successful as projected.
Valeant has not significantly corrected the pricing of its drugs. This has exposed the company to payment as well as regulatory risks.
Increasing copays can prove detrimental to Valeant's prescription volumes.
Low valuation multiples are reflecting the inherent risk of Valeant's business model and are unlikely to correct for a significant time period.
Financial Guidance for 2016
There are several reasons that can help one conclude that Valeant Pharmaceutical's (NYSE:VRX) financial guidance for 2016 may be too optimistic. The company has projected that it will earn revenues in the range of $9.90 billion to $10.10 billion, while adjusted non-GAAP EPS will fall in the range of $6.60 - $7.00. While the company has already attained 48% of its annual revenue guidance in 1H16, the adjusted EPS in this period is only 39% of the company's full year target.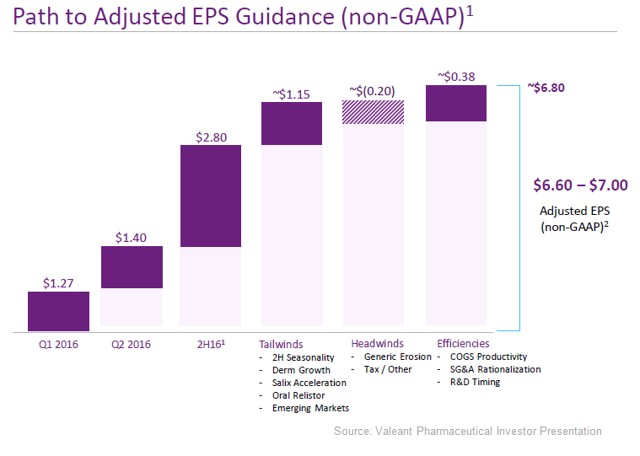 The above diagram shows how Valeant Pharmaceutical expects to achieve its 2016 adjusted non-GAAP EPS. It shows that adjusted EPS in 2Q16 was $1.40, a slight increase from $1.27 recorded in 1Q16. The company registered only a modest rise in sequential quarter-over-quarter revenues from $2.37 billion in 1Q16 to $2.42 billion in 2Q16. This involved flat quarter-over-quarter revenue growth from developed markets.
Walgreens Deal may not turn profitable
One can argue that Valeant's subdued performance in 2Q16 is just an exception. They may claim that the company lost substantial revenues in 2Q16 due to challenges faced in its distribution model with Walgreens. The termination of Valeant's relationship with Philidor RX Services, an independent specialty pharmacy, in October 2015, has resulted in significant loss of refill prescriptions in 1H16. They may believe that this situation will not continue in future quarters and the Walgreens deal may become profitable in the 2H16.
Contrary to the belief, I think Valeant's fulfillment deal with Walgreens has a high possibility of failure.
Valeant Pharmaceutical announced fulfillment agreement with Walgreens on December 15, 2015. While few dermatology products are slowly witnessing a revival of revenues, the deal has till date failed to make up for the lost mail order business with Philidor.
And Walgreens may never be able to recover majority of the revenues for many years ahead, mainly because the company's drugs are expensive and can easily be substituted. The past commercial success of the company was dependent on mail-order business, in which patients never visited a brick-and-mortar pharmacy. Hence,they were never exposed to the high price of the drugs. It was only the health insurer who had to bear the brunt of reimbursing the costly medicines. Hence, it may not be feasible to sell such products through a retail distributor like Walgreens, especially when the company has not significantly reduced prices of its drugs.
A flashback of the year that destroyed Valeant's share price
On February 10, 2015, Marathon Pharmaceuticals announced the sale of its non-strategic drug portfolio, which contained heart drugs, Isuprel and Nitropress, to Valeant Pharmaceutical. After the deal, Valeant Pharmaceutical increased the prices of these drugs by 525% and 212%, respectively.
The price raise set the ball rolling for unraveling of a major scandal in the pharmaceutical industry. In August, 2015, this pricing strategy was first questioned by Senator Bernie Sanders and another member of Congress, Elijah Cummings. By September 28, 2015, the number of democrats investigating Valeant's excessive price hike reached 18. This would prove to be a turning point for the company. Valeant Pharmaceutical's share price took a hit of about 16.5% from $199.47 on September 25, 2015, to $166.50 on September 28, 2015.
The investigation further intensified after Deutsche...
More