On Monday, May 16, Indian benchmarks closed 1% higher. Notably, markets came under pressure from a retreat in the banking sector.
The Nifty 50 climbed 0.59% to 7, 860.75, while the BSE Sensex 30 was 0.64% higher at 25,653.23.
On the Nifty 50, Bosch and ITC outperformed the broader market, adding 3.32% and 3.15%, respectively. Bank of Baroda and Punjab National Bank led the decliners, losing 8.25% and 3.41%, respectively.
On the BSE Sensex 30, Dr. Reddy's Laboratories paced the gains, advancing 3.16%, while State Bank of India underperformed the market, dipping 4.22%.
Bank of Baroda slid 8.25%, setting a low since April 8, on news of quarterly loss. Notably, the bank's loss stood at INR 32.3 bn in the fourth quarter compared to revenue of INR 5.98 bn a year earlier.
As noted above, among the main industry groups on the S&P BSE Sensex, several banks stood out among the underperformers. State Bank of India and ICICI Bank paced the losses, sinking 4.22% and 1.21%, respectively.
Pharmaceutical company Dr. Reddy's Laboratories hit a two-week high, while Asian Paints and Tata Motors were each off around 1%.
On the currency market, USD/INR edged down 0.27% to 66.826, while EUR/INR ticked up 0.07% to 75.6330.
The Indian VIX, a volatility index based on the Nifty 50 index option prices, was 0.21% higher at 17.0325.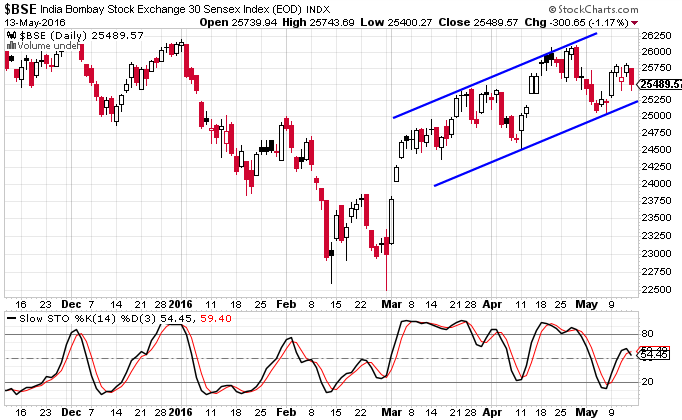 The BSE Sensex 30 is trading within a rising trend. Technically, the trend is mixed, and investors are advised to watch for clearer signals.