Qorvo Inc QRVO is set to release second-quarter fiscal 2018 earnings on Nov 1.

Notably, the company has beaten the Zacks Consensus Estimates in three of the trailing four quarters, with an average positive surprise of 2.64%. Last quarter, the company delivered a positive earnings surprise of 7.41%.

For the second-quarter of fiscal 2018, Qorvo forecasts strong sequential revenue growth primarily on the strength of mobile content gains on marquee platforms, modest improvements in the Chinese market and continued strength in Infrastructure and Defense (IDP) segment.

Management expects non-GAAP revenues to be approximately $800-$820 million. Earnings are anticipated between $1.36 and $1.50 per share.

Qorvo, Inc. Price and EPS Surprise
The Zacks Consensus Estimate for earnings is currently pegged at $1.44 on revenues of $811 million.

Notably, the stock has returned 39.8% year to date, substantially outperforming the 38% rally of the industry.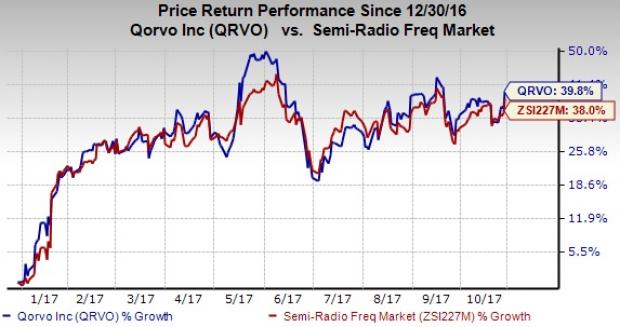 Let's see how things are shaping up for this announcement.

Improving Demand in China to Boost Top-line

Notably, China accounts for almost 30% of Qorvo's Mobile Product revenues. Per market research firm GFK, smartphone demand in China increased 5% in third-quarter 2017, while average selling price (ASP) jumped 15% year over year. The improving demand environment bodes well for Qorvo's top line. However, mix will continue to be a drag as consumers are favoring lower content phones, witnessed so far in the cycle.

Qorvo's results significantly depend on performance of Apple Inc's AAPL iPhone. We believe that higher dollar content at the next-generation iPhone will drive top line. Additionally, improving market share at Samsung and Huawei is positive.

The Zacks Consensus Estimate for Mobile Products is currently pegged at $616 million.

IDP Growth to Continue

We believe IDP is the key catalyst for Qorvo in the soon-to-be-reported quarter. The company is benefiting from strong demand for its high-powered Bulk Acoustic Wave (BAW) for the 3.5 gigahertz band for 5G massive Multiple Input Multiple Output (MIMO) antennas.

The defense business was strong in the last quarter as reflected in the 25% surge in GaN and BAW revenues. Multiyear defense contracts supporting programs like F-15, 16 and F-35 also aided growth.

We expect the company's top line to benefit from the launch of new products for 5G development like GaN on silicon carbide 5G front-end module for the 39 GHz frequency band (industry's first) and ultra-high performance 28 GHz solutions.

During the quarter, Qorvo partnered with Veterans Trading Company (VTC), an end-to-end supply chain service provider that serves the government contract community. This will help it to fast penetrate the defense market.

The Zacks Consensus Estimate for IDP is currently pegged at $189 million.

Unfavorable Rank, Negative ESP

We believe that Qorvo is unlikely to deliver a positive earnings surprise in the second quarter due to an unfavorable combination of Zacks Rank #4 (Sell) and Earnings ESP of -0.35%. You can uncover the best stocks to buy or sell before they're reported with our Earnings ESP Filter.

We don't recommend Sell-rated stocks (Zacks Rank #4 or 5) going into the earnings announcement, especially when the company is seeing negative estimate revisions.

Stock to Consider

Here are some stocks you may consider as our proven model shows that they have the right combination of elements to post an earnings beat this quarter.

HubSpot Inc HUBS has an Earnings ESP of +26.53% and carries a Zacks Rank #2 (Buy). You can see the complete list of today's Zacks #1 Rank (Strong Buy) stocks here.

Ametek Inc AME has an Earnings ESP of +0.18% and carries a Zacks Rank #3 (Hold).
Zacks' Best Private Investment Ideas
While we are happy to share many articles like this on the website, our best recommendations and most in-depth research are not available to the public.
Starting today, for the next month, you can follow all Zacks' private buys and sells in real time. Our experts cover all kinds of trades… from value to momentum . . . from stocks under $10 to ETF and option moves . . . from stocks that corporate insiders are buying up to companies that are about to report positive earnings surprises. You can even look inside exclusive portfolios that are normally closed to new investors.
Click here for Zacks' private trades >>
Want the latest recommendations from Zacks Investment Research? Today, you can download 7 Best Stocks for the Next 30 Days.
Click to get this free report
HubSpot, Inc. (HUBS): Free Stock Analysis Report
Qorvo, Inc. (QRVO): Free Stock Analysis Report
Apple Inc. (AAPL): Free Stock Analysis Report
AMTEK, Inc. (AME): Free Stock Analysis Report
To read this article on Zacks.com click here.