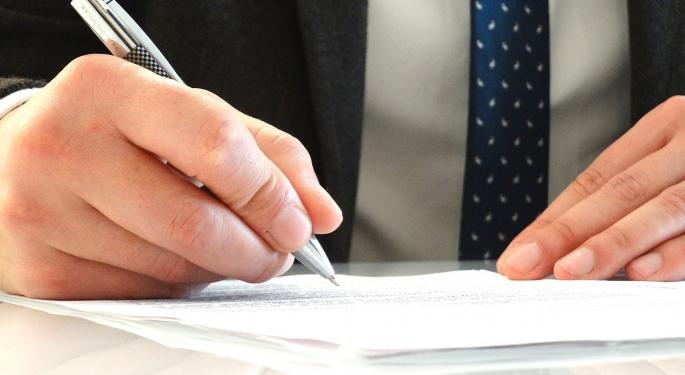 Institutional investment firms with more than $100 million in assets under management and relevant long stakes in U.S. listed equities are required to disclose their long positions with the SEC once per quarter via 13F filings. Filings for the first quarter of 2016 are due this Friday and, while some funds have already disclosed their Q1 long stakes, others are waiting until the absolute last minute to do so. Ahead of their filings, Benzinga will share a look into the last fully reported quarter's most relevant moves, into what to look for in the first quarter's 13Fs and into some of the trends appearing in the first quarter.
Some Early Trends For Q1
As stated above, some firms have already filed their first quarter 13Fs, including Harris Associates, Yacktman Asset Management and Fisher Asset Management.
Allergan plc Ordinary Shares AGN 2.89% saw several large funds trim their exposure over the first quarter, as the stock lost 14.23 percent. Columbus Circle Investors disclosed ownership of 413,913 shares of the company as of March 31, cutting its stake by 16 percent in the first quarter.
Jean-Marie Eveillard's First Eagle Investment Management declared an even larger reduction in its stake, which was cut by 45 percent over the period to 371,770.
On the other hand, TD Asset Management started a new position over the quarter, comprising 920,031 shares.
Harris Associates' top pick remained General Motors Company GM 0.22%, even though it cut its exposure by 3 percent to 78,563,924 million shares. Also bullish, but reducing its stake in the automaker, was Bank of New York Mellon Corp., which trimmed its position by 1 percent to 13,511,978 shares.
Harris' largest new position was the one started at Baxter International Inc BAX 0.44%, which comprised 5,106,845 shares, or more than $209 million in stock. On the other hand, the largest closed out stake was that at General Mills, Inc. GIS 0.29%; the firm held 4,165,823 shares of the company by the end of the fourth quarter.
For its part, Yacktman continued to be bullish on Procter & Gamble Co PG 0.62%, which was, same as in the previous quarter, its top pick, despite trimming its stake by 11 percent over the period. As of March 31, the firm held 19,444,922 shares of the company, valued at more than $1.6 billion. While no new positions were opened over the first quarter of 2016, 10 stakes were boosted. A noteworthy move was the one seen at Twenty-First Century Fox Inc FOXA 0.31%; the fund increased its exposure by 4 percent over the first quarter, to 40,353,546 shares or $1.12 billion in stock.
Finally, Ken Fisher's fund seemed particularly bullish on the iShares IBoxx $ Invest Grade Corp Bd Fd LQD 0.04%, as it increased its exposure by 4 percent to 13,174,823 shares over the quarter, turning it its most valuable position.
© 2016 Benzinga.com. Benzinga does not provide investment advice. All rights reserved.