Looked like a panic? I think it was/is a retest buy opportunity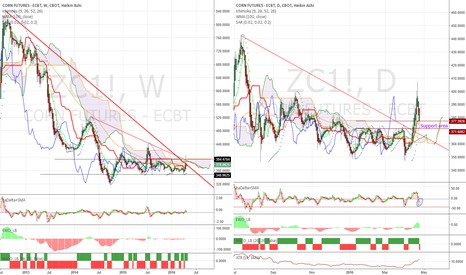 Sharp moves, soaring volatility: look at ATR! --> first conclusion: as always when volatility increases that much, you must reduce unit size (regardess how small or big account you trade)!!!

After the spike we saw two days massive selloff down to 371+. Please note that now we already trade July Corn0.00%% contract.
- 377 - 372 zone was clearly a bullish support to buy.
- Market is so volatile, price is moveing so quickly, that even with haDelta it is a bit hard to catch changes in time. The Heikin-Ashi candle still looks bearish , but as you see haDelta quickly hit an extreme low during friday trading session. That's why I thought the support zone was OK to buy a small long. Anyway I waited until today US open to enter.
- EWO is not changing that quickly. It is simply still bullish .

As you see the weekly key reversal is still around 395-400. In case we close above, we can expect another +10 % move to ard 440.