AbbVie Inc. ABBV is scheduled to release third-quarter 2017 earnings on Oct 27, before the opening bell.
AbbVie's shares have soared 47.8% so far this year, while the industry has recorded an increase of 20.2%.

Last quarter, the company delivered a positive surprise of 1.43%. Notably, AbbVie's earnings history is a mixed bag as the pharmaceuticals company beat estimates in two of the last four quarters and recorded in-line earnings in the other two. The four-quarter average beat is 0.76%.
AbbVie Inc. Price and EPS Surprise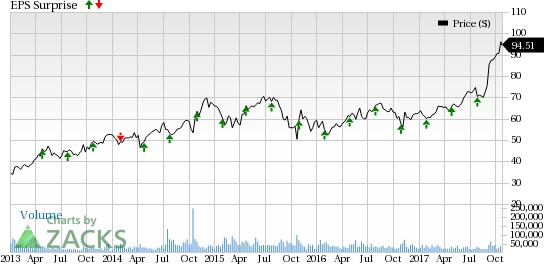 Let's see how things are shaping up for the company this quarter.
Factors to Consider
AbbVie expects third-quarter 2017 earnings in the range of $1.36-$1.38 per share. Revenues are estimated to grow approximately 9% on an operational basis. Foreign exchange is not expected impact the sales in the third quarter.
The company's key drug, Humira, is likely to remain the main growth driver in the third quarter, backed by higher demand. This quarter, AbbVie expects Humira sales to rise in the high-teens range while internationally, sales are estimated to increase in a mid-single-digit range on an operational basis. The Zacks Consensus Estimates for Humira is $4.6 billion for the third quarter.
Significantly, cancer drug Imbruvica recorded strong sales since the past few quarters, a trend that we expect to continue. In the quarter to be reported, Imbruvica was approved by the FDA for treating adult patients with chronic graft versus host disease (cGVHD) disease after failure of one or more lines of systemic therapy. Imbruvica's expanded label should also contribute to its sales growth. The company expects the drug's U.S. sales growth to approach 30% in the third quarter. The Zacks Consensus Estimate for Imbruvica is $676 million for this quarter.
Other drugs like Duopa and Creon are also expected to continue to perform well in the soon-to-be-reported quarter.
However, Abbvie's Hepatitis C virus (HCV) treatment, Viekira, will continue to be adversely impacted by an intense pricing and competitive pressure in the HCV market.
Notably, AbbVie's eight-week, pan-genotypic, ribavirin-free, once-daily HCV treatment, Mavyret/Maviret, gained approval in the United States, EU and Canada earlier in July/August.
The company believes that Maviret has potential to rejuvenate growth in the HCV franchiseas compared to the competitive dynamics in the HCV market. We expect management to update on commercialization plans of Maviret at the conference call.
Maviret is expected to contribute considerably to revenues only from 2018 onward.
The company has made significant progress with its pipeline during the quarter, which will be another focus for investors to keep tabs on. AbbVie and partner Roche RHHBY announced positive data from a phase III MURANO study of Venclexta plus Rituxan in September to expand the label to address the broader relapsed/refractory CLL (chronic lymphocytic leukemia) patient population. Label expansion for this indication should increase the patient population for Venclexta significantly and boost its commercial potential. Also, in the same month, the company announced that its oral JAK-1 selective inhibitor, upadacitinib (ABT-494), met primary endpoints in a phase III study for treatment of RA (rheumatoid arthritis).
Additionally, AbbVie and partner Neurocrine Biosciences announced that the new drug application (NDA) for elagolix has been submitted to the FDA in September. AbbVie is looking to get elagolix approved as an oral medicine for pain management associated with endometriosis.
Earnings Whispers
Our proven model does not conclusively show that AbbVie is likely to beat on earnings this quarter. This is because a stock needs to have both a positive Earnings ESP and a bullish Zacks Rank #1 (Strong Buy), 2 (Buy) or 3 (Hold) for this to happen. But that is not the case here, as you will see below.
Zacks ESP: AbbVie has an Earnings ESP of 0.00% as both the Most Accurate estimate and the Zacks Consensus Estimate are pegged at $1.39 per share. You can uncover the best stocks to buy or sell before they're reported with our Earnings ESP Filter.
Zacks Rank: Though AbbVie's Zacks Rank #3 increases the predictive power of ESP, its 0.00% Earnings ESP makes the surprise prediction difficult.
We caution against the Sell-rated stocks (#4 or 5) going into the earnings announcement, especially when the company is seeing negative estimate revisions.
Stocks That Warrant a Look
Here are some health care stocks that you may want to consider as per our model, these have the right combination of elements to beat on earnings this quarter:
Merck & Company, Inc. MRK is scheduled to release results on Oct 27. This Zacks #3 Ranked company has an Earnings ESP of +0.61%. You can see the complete list of today's Zacks #1 Rank stocks here.
Pfizer, Inc. PFE is scheduled to release results on Oct 31. The company has an Earnings ESP of +0.94% and also carries a Zacks Rank of 3.
Today's Stocks from Zacks' Hottest Strategies
It's hard to believe, even for us at Zacks. But while the market gained +18.8% from 2016 - Q1 2017, our top stock-picking screens have returned +157.0%, +128.0%, +97.8%, +94.7%, and +90.2% respectively.
And this outperformance has not just been a recent phenomenon. Over the years it has been remarkably consistent. From 2000 - Q1 2017, the composite yearly average gain for these strategies has beaten the market more than 11X over. Maybe even more remarkable is the fact that we're willing to share their latest stocks with you without cost or obligation.
Want the latest recommendations from Zacks Investment Research? Today, you can download 7 Best Stocks for the Next 30 Days.
Click to get this free report
Roche Holding AG (RHHBY): Free Stock Analysis Report
Pfizer, Inc. (PFE): Free Stock Analysis Report
Merck & Company, Inc. (MRK): Free Stock Analysis Report
AbbVie Inc. (ABBV): Free Stock Analysis Report
To read this article on Zacks.com click here.