OPEC's effort to secure cooperation of non-members in a global deal to curb crude output will roll on from Istanbul to Vienna, with Russia on board but growing internal differences over sharing the burden of cuts.
Russia is ready to participate in a "technical exchange" to set a road map for oil production levels in the Austrian capital on Oct. 29, Energy Minister Alexander Novak told reporters Wednesday. Talks in Istanbul were positive and cooperation between members of the Organization of Petroleum Exporting Countries and other producers is now well established, said Qatar's Energy Minister Mohammed Al Sada.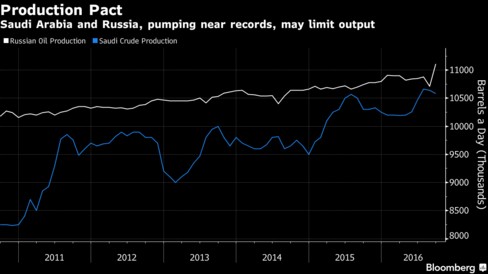 "It takes more than OPEC to stabilize the market -- there is a realization that other big players need to do their jobs" including U.S. shale producers, United Arab Emirates Energy Minister Suhail Mohammed Al Mazrouei said in an interview with Bloomberg television. "If we all collectively agree that there is an oversupply then we need to collectively participate in fixing this. We are sending an open invitation to everyone."
OPEC achieved its main task in Istanbul, as Russia's two largest oil producers said they would comply with any government instructions to curb oil output, following President Vladimir Putin's backing on Monday for a supply deal. That leaves the success or failure of an accord involving producers of half the world's oil in the hands of an OPEC committee, which will meet later this month to resolve disputes over how much Venezuela and Iraq should pump.
Russian Commitment
"We are confident of Russia's commitments," OPEC Secretary-General Mohammed Barkindo said in an interview with Bloomberg television before the meeting in Istanbul on Wednesday. Although it's still too early to assign countries individual output targets, "momentum is on our...
More