A few weeks ago I talked about
commodities
being at a cross roads, and it's particularly true for this commodity.  Copper has been locked in a fairly tight range after the fast and furious breakout late last year.  The rebound in China's economy (stimulus and property driven at first) along with lukewarm positioning were the setup.  And now the key catalyst for the move (if you look at the chart below) has also moved into a tight range.  It's fair to say the next steps for copper are going to be closely linked to what happens in China.  As I noted this week, the
outlook
 in this respect is somewhat murky.
Taking a bigger picture view, the bear market in Copper that began in 2011 ended in 2016 when the price found a base on the longer term trend line.  So while on a shorter term time frame it may still look to be in a down trend, if this longer term trendline is anything to go by then the longer term view may well be for a renewed uptrend.  Either way the longer term trend line at least provides useful information from a risk management perspective.  If I'm wrong on the view of a slowdown in China's property market in 2018 then copper could well head onwards and upwards.
Dr Copper has consistently given a second opinion on China macro in line with that of the Chinese PMI.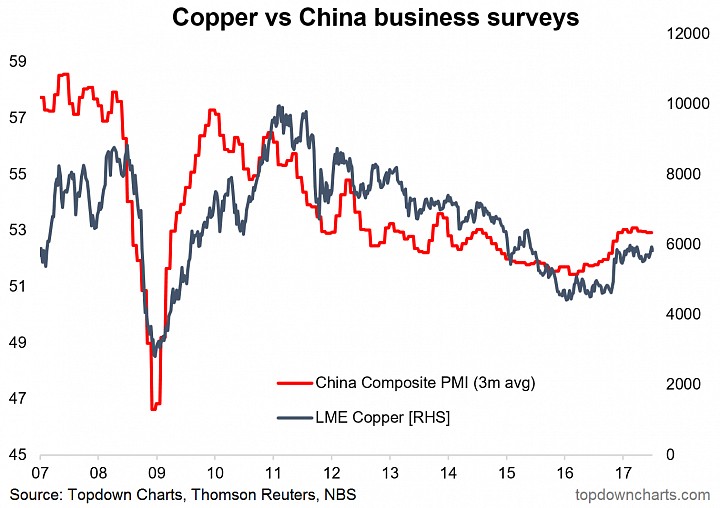 Taking a longer term view, the 2015/16 bottom forms part of a longer-term up-trendline.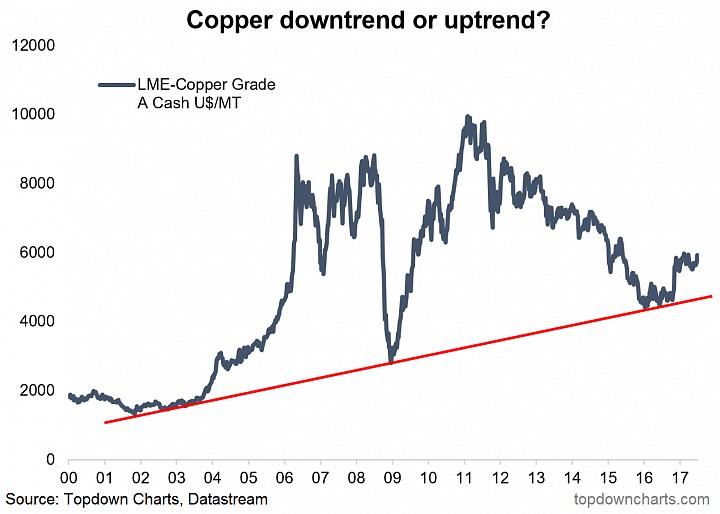 For institutional grade insights on the global economics and asset allocation, and some more good charts you may want to 
subscribe to the Weekly Macro Themes
.  Click through for a free trial.
Follow us on: