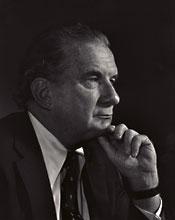 The history and identity of Williams & Connolly LLP are inextricably linked with the life of its founder, Edward Bennett Williams. Recognized as the greatest trial lawyer of his time, he was a spellbinding orator, but also a meticulous cross-examiner – a master in the courtroom, and a craftsman of the written brief. Williams was capable of the calculated theatrical gesture, but he also understood that the key to success in the courtroom was total preparation in advance.
To his colleagues, Williams was larger than life, a force of nature; to the sophisticated world in which he moved, a "giant among men." Although he was a counselor to presidents and the powerful, he was also the champion of unpopular, seemingly "hopeless" causes. In his hands, however, no cause was hopeless.
Williams combined extraordinary gifts of advocacy with a passion for justice. His commitment to excellence in advocacy and to the zealous representation of clients are his enduring legacy.
In 1967, Williams joined with his former student at Georgetown, Paul Connolly, to form Williams & Connolly. The firm set out to practice law the way its partners lived life – passionately. Williams called it "contest living," embracing the competition and fighting relentlessly to win.