Teladoc provides telehealth services via mobile devices, the Internet, video, and phone to clients and their customers. The company went public earlier this year. Its current stock price is 50% below the IPO level. After the announcement of Q3 results the company lost almost $60M in market capitalization (stock price decreased 10%).
<!== INSTRUMENT %% %60% ==!>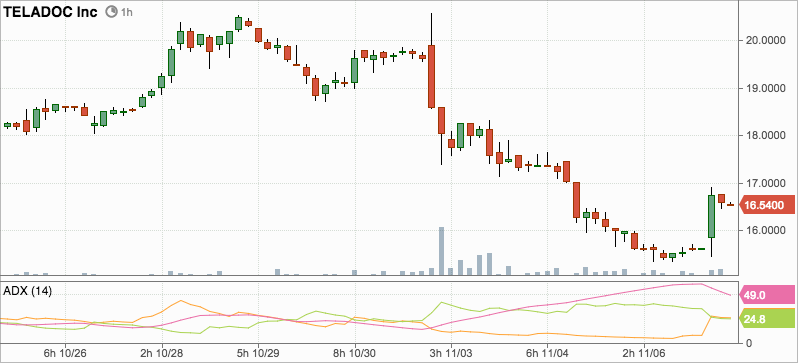 This stock acquired all my attention today, because it increased more than 5% already and is among the top gainers. As soon as Teladoc is somewhere between healthcare and technology, I decided to take a better look at the financial statements of the company. I made the following summary for me about Teladoc's business:
The company has two ways of business - first is the paid membership, the second is fixed price per visit. The last one means that anybody who has any health-related questions can book the so called "visit" via Internet. The price for such visit is $40;
Financial metrics:

Revenue increased almost 80% on year-over-year basis;
Cost of revenue increased more than 141%, marketing and sales expenses increased 92%;
The fact of increased cost is even worse because Teladoc increased costs as % of revenue: cost of revenue was 19.4% of revenue as of September 2014 and became 26.2% as of September 2015. Sales and marketing expenses grew up from 47% to 50%;
Product development costs increased 50%, however, as % of revenue this type of costs increased just by 1.3% (from 17.05% to 18.36%);

Operating metrics:

Paid memberships increased 90% (+4.2M members);
As soon as paid memberships contribute around 85% to the revenue, we can calculate the ARPA. ARPA decreased almost 10% due to 2 facts: 1) paid membership accounted for 88% as of September 2014 and 85% as of September 2015; 2) too high growth rate in the number of memberships - +90% over the last year;
Number of visits accounted for 15% as of September 2015. This number increased more than 89% over the last year.
Teladoc received the last pre-IPO funding a year ago, in September 2014. The company received $50M funding. Teladoc made several useful acquisitions during this year - they acquired BetterHelp, AmeriDoc and Consult a Doctor. 
To summarize, Teladoc's stock seems to be very interesting for me, because the business model itself is very prospective and interesting. However, the company has too many risks at the moment. I suppose investing into this stock could be tricky, however, I think that as soon as investors will find this instrument prospective, its price will be much higher. 
Have you ever used Teladoc? What do you think about the stock?