Applied Optoelectronics, Inc. (AAOI) just released its second-quarter fiscal 2017 financial results, posting earnings of $1.54 per share and revenues of $117.4 million. Currently, AAOI is down a whopping 29.38% to $69.20 per share in trading shortly after its earnings report was released.
Applied Optoelectronics:
Beat earnings estimates. The company posted earnings of $1.54 per share, defeating the Wall Street Consensus Estimate of $1.32 per share.
Beat revenue estimates. The company saw revenue figures of $117.4 million, which is up 112% year-over-year, beating our consensus estimate of $115.64 million.
Applied Optoelectronics is calling for revenues between $107 million and $115 million during the third-quarter of fiscal 2017. This range falls below our Zacks Consensus Estimate for the quarter of $122.93 million, which is a large part of the reason the stock lost over 25% after hours.
The company also projects Non-GAAP gross margin in the range of 43% to 44.5%, net income in the range of $26.6 million to $29.4 million, and EPS in the range of $1.30 to $1.43.
"Our record gross margin and earnings demonstrate the strength of our business model and deep manufacturing know-how. We believe our ability to leverage our vertical integration and proprietary manufacturing processes to drive greater efficiencies and shorten our production cycle times sets AOI apart from others in the industry," said President and CEO Dr. Thompson Lin.
Here's a graph that looks at AAOI's Price, Consensus and EPS Surprise:
Applied Optoelectronics, Inc. Price, Consensus and EPS Surprise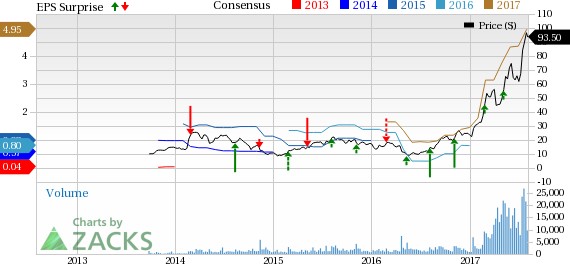 Applied Optoelectronics, Inc. Price, Consensus and EPS Surprise | Applied Optoelectronics, Inc. Quote
Applied Optoelectronics, Inc. designs, develops and manufactures advanced optical devices, packaged optical components, optical subsystems, laser transmitters and fiber optic transceivers. The company's products are used in fiber optic communications equipment for FTTH, point-to-point telecom, datacom and access networks and systems supporting cable television, network infrastructure.
Check back later for our full analysis on AAOI's earnings report!
More Stock News: Tech Opportunity Worth $386 Billion in 2017
From driverless cars to artificial intelligence, we've seen an unsurpassed growth of high-tech products in recent months. Yesterday's science-fiction is becoming today's reality. Despite all the innovation, there is a single component no tech company can survive without.
Demand for this critical device will reach $387 billion this year alone, and it's likely to grow even faster in the future. Zacks has released a brand-new Special Report to help you take advantage of this exciting investment opportunity. Most importantly, it reveals 4 stocks with massive profit potential. See these stocks now>>
Want the latest recommendations from Zacks Investment Research? Today, you can download 7 Best Stocks for the Next 30 Days.
Click to get this free report
Applied Optoelectronics, Inc. (AAOI): Free Stock Analysis Report
To read this article on Zacks.com click here.
Zacks Investment Research