Shares of Snap Inc. SNAP lost more than 2.5% on Friday, marking a disappointing end to one of the struggling stock's worst weeks on the market. As analysts and investors become increasingly critical of the Snapchat parent, shares have plummeted below their IPO level, and an immediate turnaround looks unlikely with the company's lockup period set to expire soon.
One Tough Week
Earlier this week, SNAP dropped well below its initial $17 per share threshold after Morgan Stanley downgraded the stock and lowered their revenue forecast for the company.
"SNAP's ad product is not evolving/improving as quickly as we expected and Instagram competition is increasing," Morgan Stanley analyst Brian Nowak said in a note. "We have been wrong about SNAP's ability to innovate and improve its ad product this year … as it works to move beyond 'experimental' ad budgets into larger branded and direct response ad allocations."
Nowak and his team also said that they do not belief Snap will be profitable through at least 2020, which was the year that the firm was previously targeting for the company to be in the green.
Things got even worse on Wednesday when a major player in the advertising world cast doubt on Snap's ad strategy. Indeed, Sir Martin Sorrell, the CEO of advertising behemoth WPP, told CNBC that, although his company is poised to spend more money on Snapchat this year, its spending on the platform is just a tiny fraction of what it has budgeted towards Snap rivals like Facebook FB.
"There has been a concentration on whether Facebook can successfully repulse Snap, and to date, it seems that they have… So what we will see is still significantly greater spending at Google and Facebook," said Sorrell.
Finding a Bottom?
Again, it's been a rough week for Snap, and the short and long-term outlook for the company doesn't look great. But a look at the stock's weekly chart reveals something interesting: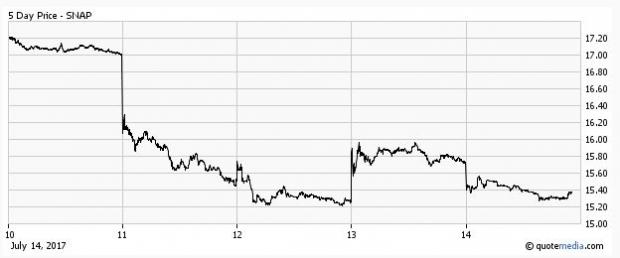 Prior to this week, Snap had found some support just above $17 per share. Bullish sentiment has been rare, but investors were reluctant to send the stock below its IPO price so early in the game. But that support is clearly gone now, and shares are finding support at a lower price level.
Indeed, even in the worse moments of the stock's mid-week slump, and again today as the stock gave back its Thursday gains, investors seemed to offer some support just above $15.20 per share. In fact, its new all-time low is exactly $15.21 per share.
This "trend" is probably a bit too young to be declared a solid new support line, but it's clear that this $15.20 level is the new threshold to watch.
The company's post-IPO lockup period, which bars employees and private investors from selling shares immediately after its debut, is set to begin expiring at the end of the month. This means that new shares of SNAP could potentially flood the market, sending the stock even lower.
If the lockup expiration sends the stock crashing below the $15.20 level, there's no telling where it will stop. This Zacks Rank #4 (Sell) may eventually bounce back, but it seems to be a rather risky choice for investors right now.
For more of this week's breaking market news, make sure to check out the latest episode of the Friday Finish Line podcast:
Want more stock market analysis from this author? Make sure to follow @
https://twitter.com/Ryan_McQueeney
on Twitter!
More Stock News: This Is Bigger than the iPhone!
It could become the mother of all technological revolutions. Apple sold a mere 1 billion iPhones in 10 years but a new breakthrough is expected to generate more than 27 billion devices in just 3 years, creating a $1.7 trillion market.
Zacks has just released a Special Report that spotlights this fast-emerging phenomenon and 6 tickers for taking advantage of it. If you don't buy now, you may kick yourself in 2020. Click here for the 6 trades >>
Want the latest recommendations from Zacks Investment Research? Today, you can download 7 Best Stocks for the Next 30 Days.
Click to get this free report
Facebook, Inc. (FB): Free Stock Analysis Report
Snap Inc. (SNAP): Free Stock Analysis Report
To read this article on Zacks.com click here.
Zacks Investment Research