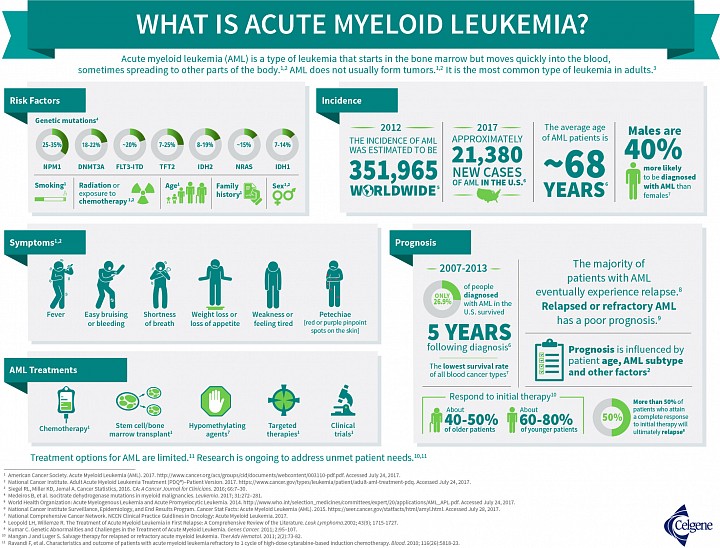 SUMMIT, N.J., & CAMBRIDGE, Mass.--(BUSINESS WIRE)--Celgene Corporation (NASDAQ:CELG) and Agios Pharmaceuticals, Inc. (NASDAQ:AGIO) today announced that IDHIFA® (enasidenib) was granted approval from the U.S. Food and Drug Administration (FDA) for the treatment of adult patients with relapsed or refractory AML (R/R AML) with an isocitrate dehydrogenase-2 (IDH2) mutation as detected by an FDA approved test.1 IDHIFA, an oral targeted inhibitor of the IDH2 enzyme, is the first and only FDA-approved therapy for patients with R/R AML and an IDH2 mutation, which represents between 8 and 19 percent of AML patients.3
"AML is a complex, heterogeneous disease, which is particularly difficult to treat in the relapsed or refractory setting"

Tweet this
"The FDA approval of IDHIFA provides the first-ever treatment option for patients living with relapsed or refractory AML and an IDH2 mutation. We appreciate the FDA's efforts to expedite the availability of IDHIFA for patients with this devastating disease weeks ahead of the PDUFA date," said Mark Alles, Chief Executive Officer of Celgene. "This milestone further illustrates the value of Celgene's unique distributed research model. Our partnership with Agios is an exceptional example of how Celgene and its collaborators can positively impact the lives of patients with high unmet needs."
AML is a cancer of the blood and bone marrow marked by rapid disease progression and is the most common acute leukemia affecting adults with more than 21,000 new cases estimated in the U.S. each year.4,5,6 The majority of patients with AML eventually experience relapse. Relapsed or refractory AML has a poor prognosis.6 For 8 to 19 percent of AML patients, the mutated IDH2 enzyme blocks normal blood cell development and results in an overabundance of immature blood cells.3
"The FDA approval of IDHIFA just four years after entering the clinic is the first of what we expect to be multiple first-in-class precision medicines for patients with cancer and rare genetic diseases from our productive discovery engine," said David Schenkein, M.D., Chief Executive Officer of Agios. "We look forward to working closely with Celgene to co-commercialize IDHIFA and provide access for patients in the U.S. with this devastating disease."
"AML is a complex, heterogeneous disease, which is particularly difficult to treat in the relapsed or refractory setting," said Martin Tallman, M.D., Hematologic Oncologist and Chief, Leukemia Service at Memorial Sloan Kettering Cancer Center. "IDH2 mutations inhibit the normal maturation of myeloid cells, so having a treatment that targets this mechanism is promising for patients and encouraging to us as physicians who have it as our goal to provide options for every patient."
Demonstrating Clinical Benefit & Safety with IDHIFA1
The FDA approval was based on the clinical data from an open-label, single-arm, multicenter, two-cohort clinical trial of adult patients with R/R AML and an IDH2 mutation (Study AG221-C-001, NCT01915498). IDHIFA was approved concurrently with the Abbott RealTime™ IDH2 companion diagnostic test, which is FDA-approved as an aid in identifying AML patients for treatment with IDHIFA.
The efficacy of IDHIFA was evaluated in 199 adult patients with R/R AML and an IDH2 mutation. IDH2 mutations were identified or confirmed by the Abbott RealTime™ IDH2 test. IDHIFA was given orally at a starting dose of 100 mg daily until disease progression or unacceptable toxicity. Dose reductions were allowed to manage side effects. Patients had a median age of 68 years (range of 19 to 100) and received a median of two prior anticancer regimens (ranging from one to six). More than half (52%) were refractory to previous therapy.
In this trial, IDHIFA demonstrated a combined complete response or complete response with partial hematologic improvement (CR/CRh) rate of 23% (n=46) (95% CI: 18%, 30%). Median duration of CR/CRh was 8.2 months (95% CI: range 4.3, 19.4). For patients who achieved a CR/CRh, the median time to first response was 1.9 months (range, 0.5 to 7.5 months) and the median time to best response of CR/CRh was 3.7 months (range, 0.6 to 11.2...
More