Last week, shares of Gap (GPS) fell sharply after it released disappointing sales numbers .
(Wall Street Journal) Gap Inc. posted an 18% drop in quarterly profit Thursday as the apparel maker had its seventh straight period of declining sales and absorbed costs tied to store closures.

Sales fell 2% to $3.80 billion in the quarter ended Oct. 29, with the biggest declines at stores open for at least a year coming at the Gap brand and Banana Republic chains. Results in the latest period were also affected by a fire in August at one of the company's largest distribution centers.

Gap executives said Thursday the company is still struggling to draw shoppers into its stores. "We understand the fact that traffic is likely to continue to be challenging as we look forward," finance chief Sabrina Simmonssaid on a conference call. (Full article on WSJ.com)
The market reacted by selling GPS. Let's take a look at the daily chart.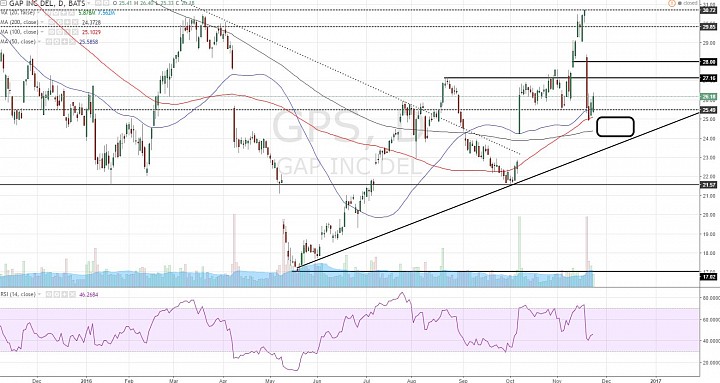 (click to enlarge)

Trend Shifted in 2016:
- The trend entering 2016 was bearish for the Gap (GPS).
- Shares have traded at a high of 46.85 in 2014 and fell to a low near 17.00 in 2016. 
- But since that low, price action has turned sideways, or possibly even bullish.- The daily chart shows that price has completed crossed above the 200-, 100-, and 50-day simple moving averages (SMAs). 
- The main evidence of a trend shift is that price made a higher low in October, and then a higher high in November. 

Market is Testing the New Trend:
- Notice that price came up to the 30-31 area, which was the previous high on the year made in March. 
- It looks like price was breaking into a new high before retreating sharply due to poor sales performance. 
- Will the bulls remain in control as they have since May?
- If the bullish trend is to continue, holding above 24-25 is a good look, especially if the daily RSI can hold above 40.
- If price can hold above 25, GPS will be holding above the SMAs and a rising trendline seen in the daily chart. 
- The RSI holding above 40 would be a sign that the bullish momentum is still in play. 

A break below 24, with the RSI falling towards 30 would be a sign that the market is not bullish, but at most sideways. Overall, I would consider the market in this scenario to be neutral-bearish, because the prevailing trend entering this sideways market was bearish.