Vantreese Collins-Hodges recently began using Periscope to broadcast herself live from her smartphone, thinking the new app would be a good way to share tips with clients of her resumé-writing business.
But after spending an hour on the app for three straight days during her commute to work, she found she was quickly blowing through much of her 10-gigabyte Verizon VZ 0.25 % data plan she shares with her husband for $241.99 a month, including fees and other services. So she ditched the app.
Periscope is "not something to me that's worth putting into the budget," the 27-year-old Honolulu resident said.
People like Mrs. Collins-Hodges could pose a challenge for Internet companies trying to get cost-conscious users to watch data-heavy video and broadcast themselves from their smartphones.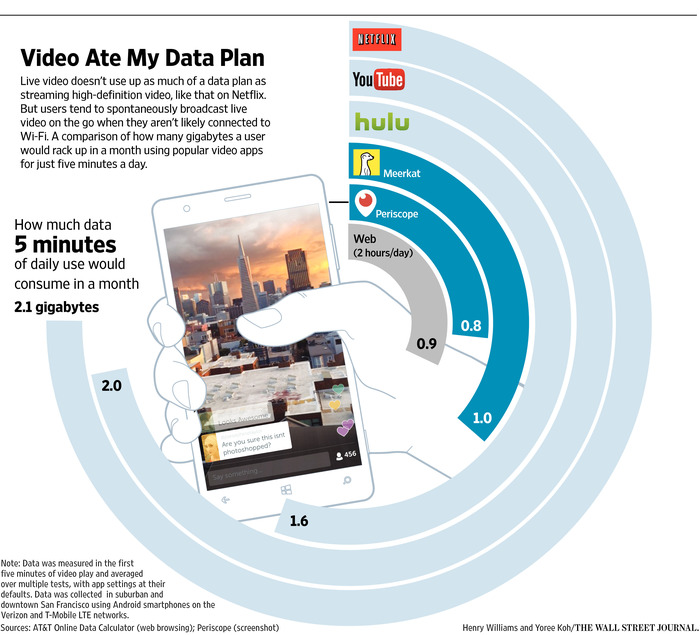 Beyond Netflix NFLX 5.80 % movies and YouTube clips, smartphone owners can now drop into a live feed of a heated protest, go backstage at a concert or just rant to others on camera.
Twitter, which owns Periscope, said in August the app already had 2 million daily users since its launch in April. Several startups such as Meerkat and Rhinobird.tv have also launched live-streaming apps in recent months.
Not to be outdone, Facebook, with 1.3 billion monthly mobile users, said in August it would enable journalists, celebrities and others with verified profiles to broadcast live video to their followers. Snapchat, which has more than 100 million daily active users, added a "Live" feature that shows short videos shot by people at various events.
But watching and broadcasting video on the go has a consequence for users. Mobile video is the single biggest data hog on a smartphone, and the immediacy of live-streaming makes it less conducive for users to wait to connect to a Wi-Fi network, where it won't count against a user's data limit.
Live video consumes less data than high-definition video because it is lower quality. But watching just five minutes of Periscope broadcasts on a smartphone was equivalent to nearly...
More