Ensco plc ESV, a leading supplier of offshore contract drilling services to the oil and gas industry, is expected to report first-quarter 2016 earnings on Apr 28.

In the last quarter, the company's earnings of 92 cents per share comfortably beat the Zacks Consensus Estimate of 74 cents but plunged 45.2% from the year-ago earnings of $1.68. Let's see how things are shaping up prior to the announcement.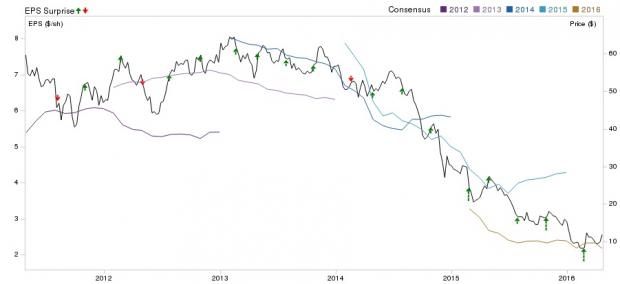 Earnings Whispers

Our proven model shows that Ensco is likely to beat earnings because it has the right combination of two key ingredients.  

Zacks ESP: Earnings ESP, which represents the difference between the Most Accurate estimate and the Zacks Consensus Estimate, is +6.25%. This is because the Most Accurate estimate stands at 85 cents, while the Zacks Consensus Estimate is pegged at 80 cents. This is very meaningful and a leading indicator of a likely positive earnings surprise.

Zacks Rank: Ensco carries a Zacks Rank #3 (Hold). Note that stocks with Zacks Ranks #1 (Strong Buy), 2 (Hold) or 3 have a significantly higher chance of beating earnings.  

Conversely, the Sell-rated stocks (Zacks Rank #4 and 5) should never be considered going into an earnings announcement.  

The combination of Ensco's favorable Zacks Rank and a positive ESP makes us confident about an earnings beat.

Factors Likely to Influence This Quarter

Ensco has a contracted revenue backlog (excluding bonus opportunities) of $5.8 billion, which provides it with an excellent cash flow visibility. With the completion of the construction phase of its eight additional rigs in 2015, along with the recently ordered two 140 series jackups, Ensco is expected to experience significant growth. Moreover, the company has decided to scrap 12 of its cold stacked rigs that include eight jack ups and four floaters, which reflects its operational efficiency.

Ensco cut its dividend to 1 cent per share from 15 cents per share due to the prolonged weakness in the offshore market. The reduction in payout will save the company $130 million annually. It will also help in capital preservation amid the continued market uncertainty.

Also, Ensco's impressive balance sheet and sufficient liquidity will help it address operational or corporate needs. At the end of the fourth quarter, Ensco had $240.4 million in cash and cash equivalents. Long-term debt (including current maturities) was $5,895.1 million, with debt-to-capitalization ratio of 41%. Therefore, we believe that Ensco remains well positioned to comfortably compete in the future amid a manageable debt position.

However, as crude gets deeply entrenched into a bearish territory and revolves below the $30 per barrel level, the top energy companies have resorted to spending cuts (particularly on the costly upstream projects) on the back of lower profit margins. This, in turn, means less work for drilling contractors like Ensco.

Moreover, the company is expected to have increased downtime in 2016. This will affect its utilization rates in the coming quarters and thus, lower revenues. Further, the challenges associated with contracting rigs for extensions in Brazil remain concerns.

Stocks to Consider

Here are some companies from the same space which, according to our model, have the right combination of elements to post an earnings beat this quarter:

Chesapeake Energy CHK has an Earnings ESP of +9.09% and a Zacks Rank #3.

Diamond Offshore Drilling, Inc. DO has an Earnings ESP of +11.11% and a Zacks Rank #3.

ConocoPhillips COP has an Earnings ESP of +1.84% and a Zacks Rank #3.

Want the latest recommendations from Zacks Investment Research? Today, you can download 7 Best Stocks for the Next 30 Days. http://www.zacks.com/registration/pfp/?ALERT=RPT_7BST_LP194&... blog">Click to get this free report >>
Want the latest recommendations from Zacks Investment Research? Today, you can download 7 Best Stocks for the Next 30 Days.
Click to get this free report
ENSCO PLC (ESV): Free Stock Analysis Report
DIAMOND OFFSHOR (DO): Free Stock Analysis Report
CHESAPEAKE ENGY (CHK): Free Stock Analysis Report
CONOCOPHILLIPS (COP): Free Stock Analysis Report
To read this article on Zacks.com click here.
Zacks Investment Research