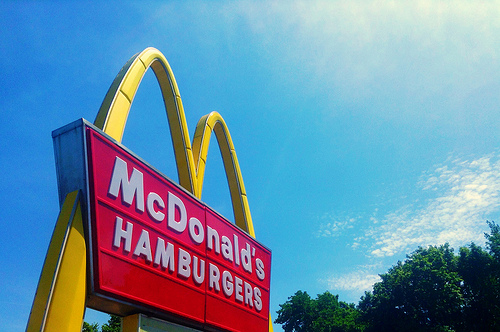 Burger giant McDonald's (NYSE: MCD) announced recently that over the next 10 years, it will phase out the use of caged eggs and instead opt for 100% cage free-eggs in their United States and Canada locations.
According to The Wall Street Journal, McDonald's currently uses cage-free eggs for 10% of its egg ingredients.
Recently, an animal rights group secretly filmed a Tennessee farm where McDonald's sources a percentage of its eggs, revealing the workers abusing the birds, leading to public outcry. Soon after the video was released, McDonald's made the announcement about the eggs.
The United States branch of McDonald's buys about 2 billion eggs per year, according to the WSJ, and the Canada branch much less at 120 million. The decision to switch to cage-free eggs over the next decade will likely shift the way in which the egg industry, at least in the United States, operates on a large scale.
Further, McDonald's will begin selling breakfast all day beginning next month, increasing the amount of egg products sold on a national scale. The demand for eggs will likely increase in conjunction with product demand.
This news is not just an achievement for animal welfare activists, but stands as a testament to how customers in 2015 view their food. Artificial ingredients and GMOs in foods are slowly but surely slipping away, with people wanting companies to be transparent about what is and is not in their food.
Over the past few months, McDonald's has been on a mission to clean up its image following months of decreasing sales. Under the leadership of the new CEO Steve Easterbrook, the burger chain has switched up the menu and decided to begin selling hormone-free milk.
Other companies, such as Chipotle (NYSE: CMG), have already forgone all GMO's and artificial ingredients in their menu items. Further, the Mexican grill is transparent when it comes to the source of their meat, supplying only humanely raised pork, beef and chicken.
If McDonald's wants to clue in on what their next move should be, they should look to Chipotle.
For more business and financial news, click here.
*This is editorial content and expresses the opinion of the author.