The AUD/USD has had some interesting price action of late, which makes me believe we may be seeing a little bit of bottoming in the pair.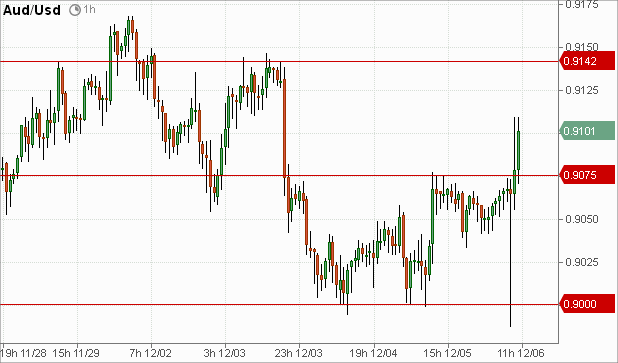 The 0.90 level held as support earlier in the week, and after the NFP data on Friday we saw a sharp spike back down to that level, where there was obviously a decent amount of clustered buy orders.

Since then the pair has managed to break above 0.9075 a level of recent resistance and a sign that perhaps the Aussie is ready to make a small case for itself after its tremendously weak performance over the last month.
 However we should keep in mind, that bottoming out is a process and there is lots of recent price history to suggest the Aussie is still pressured, so this could just be a pullback within a wider downtrend. Worth keeping an eye out then exactly how this pair performs at the start of next week.
Here's a longer term chart for some context of the Aussie's recent troubles.