Buffalo Wild Wings, Inc. BWLD just released its third-quarter 2017 financial results, posting earnings of $1.36 per share and revenues of $496.7 million. Currently, BWLD is a Zacks Rank #4 (Sell) and is up over 18% to $120 per share in after-hours trading shortly after its earnings report was released.
BWLD:
Beat earnings estimates. The company posted earnings of $1.36 per share, beating the Zacks Consensus Estimate of $0.78 per share.
Missed revenue estimates. The company saw revenue figures of $496.7 million, missing our consensus estimate of $500.2 million.
Buffalo Wild Wings third-quarter revenue jumped 0.5%, but same-store sales declined at both company-owned restaurants and franchise locations.
Buffalo Wild Wings had previously failed to meet earnings estimates nine out of the last 11 quarters, including the trailing three quarters.
For the full-year, Buffalo Wild Wings now expects same-store sales will dip by 1.5%. The restaurant chain expects to post earnings between $4.30 per share and $4.60 per share, which would mark a roughly 14% year-over-year decline.
"Our teams are executing on the cost initiatives of our fiscal fitness program and we exceeded our goal in the third quarter," CEO Sally Smith said in a statement.
"These savings helped deliver adjusted income from operations above our expectations. The recent Tuesday promotion shift from traditional to boneless wings at company-owned restaurants will continue to improve cost of sales while traditional wing prices remain elevated."
Here's a graph that looks at BWLD's Price, Consensus and EPS Surprise history:
Buffalo Wild Wings, Inc. Price, Consensus and EPS Surprise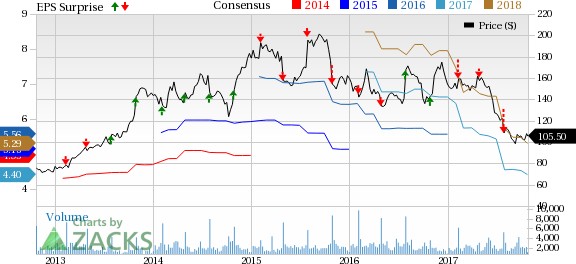 Buffalo Wild Wings, Inc. Price, Consensus and EPS Surprise | Buffalo Wild Wings, Inc. Quote
Buffalo Wild Wings is an owner, operator and franchisor of restaurants featuring a variety of boldly flavored, made-to-order menu items including Buffalo New York-style chicken wings spun in one of their signature sauces. The widespread appeal of the Company's concept establishes its restaurants as an inviting, neighborhood destination.
Check back later for our full analysis on BWLD's earnings report!
Zacks' Hidden Trades
While we share many recommendations and ideas with the public, certain moves are hidden from everyone but chosen members of our portfolio services. Would you like to peek behind the curtain today and view them?
Starting today, and for the next month, you can follow all Zacks' private buys and sells in real time. Our experts cover all kinds of trades: value, momentum, ETFs, stocks under $10, stocks that corporate insiders are buying up, and companies that are about to report positive earnings surprises. You can even look inside portfolios so exclusive that they are normally closed to new investors. Click here for Zacks' secret trades>>
Want the latest recommendations from Zacks Investment Research? Today, you can download 7 Best Stocks for the Next 30 Days.
Click to get this free report
Buffalo Wild Wings, Inc. (BWLD): Free Stock Analysis Report
To read this article on Zacks.com click here.
Zacks Investment Research