On Jul 7, shares of Rambus Inc. RMBS rose over 9% to $12.45 in the afternoon session after the Bloomberg Post reported that the chip designer could be open to a sale.
Later, Bloomberg reported that the company hired a financial advisor for assistance to evaluate sale options and search for potential suitors, citing a person who was related to the matter. However, the report did not name the possible acquirer.
Moreover, per the source, Rambus didn't take any final call as the company did not agree to the news and it may choose not to pursue a sale.
Rambus is facing ever-increasing competition from the likes of Semiconductor Manufacturing International Corp. SMI and Advanced Micro Devices AMD. Customer concentration remains headwinds for the company. This practice is limiting Rambus' growth prospects and profitability.
Moreover, the company did not provide an encouraging second quarter of 2017 revenue guidance. The company expects revenues between $90 million–$96 million. The Zacks Consensus Estimate is pegged at $97.7 million. Non-GAAP earnings per share are expected to be in the range of 10–15 cents. The Zacks Consensus Estimates is pegged at 11 cents.
Nonetheless, in our opinion, the company's solid liquidity position and impressive revenue growth make it an attractive acquisition candidate right now.
Rambus is poised well to capitalize on the rising popularity of energy-efficient lighting and LED products in the latest architectural, retail, commercial and residential lighting fixtures.
Rambus had signed a patent licensing agreement with hard disk drive (HDD) manufacturer, Western Digital Corp. WDC, for an undisclosed sum. Per the terms of the agreement, Western Digital can use Rambus' patented technology for its memory products for five years.
Rambus is going through a restructuring phase and we expect it to yield favourable results. Additionally, licensing agreements, the result of successful monetization of the company's patents, remains a recurring source of revenue.
Rambus' stock price gained only 2.1% in the last one year, underperforming the Zacks Categorized Electronics-Semiconductors industry's rise of 47.2%.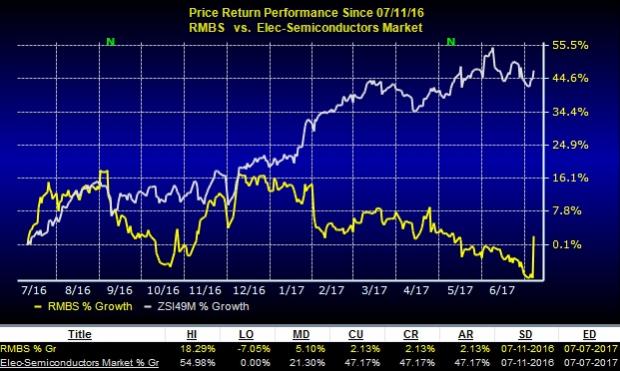 In recent times, merger and acquisition activity has gained momentum in the semiconductor industry. With a market value of about just $1.39 billion, we believe that selling itself will be a wise decision on Rambus' part.
Rambus currently carries a Zacks Rank #3 (Hold). You can see the complete list of today's Zacks #1 Rank (Strong Buy) stocks here.
Will You Make a Fortune on the Shift to Electric Cars?
Here's another stock idea to consider. Much like petroleum 150 years ago, lithium power may soon shake the world, creating millionaires and reshaping geo-politics. Soon electric vehicles (EVs) may be cheaper than gas guzzlers. Some are already reaching 265 miles on a single charge.
With battery prices plummeting and charging stations set to multiply, one company stands out as the #1 stock to buy according to Zacks research.
It's not the one you think.
Want the latest recommendations from Zacks Investment Research? Today, you can download 7 Best Stocks for the Next 30 Days.
Click to get this free report
Western Digital Corporation (WDC): Free Stock Analysis Report
Rambus, Inc. (RMBS): Free Stock Analysis Report
Semiconductor Manufacturing International Corporation (SMI): Free Stock Analysis Report
Advanced Micro Devices, Inc. (AMD): Free Stock Analysis Report
To read this article on Zacks.com click here.
Zacks Investment Research