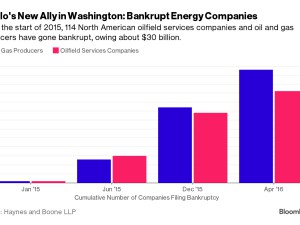 Apollo Global Management LLC and TPG Capital Management, the private equity firms that have struggled for years to salvage a $31 billion bet on troubled gambling company Caesars Entertainment Corp., see an opportunity in the oil crash.
Caesars and its owners have enlisted a new ally -- the U.S. energy industry -- to join a lobbying fight in Washington that seeks to give companies more leeway to amend their debt obligations, according to people familiar with the matter. While the Las Vegas casino company failed to persuade Congress to take action last year, a bigger coalition that includes teetering oil and gas companies could be more effective in swaying lawmakers.
More from Bloomberg.com: Ford Spent $200,000 to Dissect a Limited-Edition Tesla Model X
At issue is an obscure Depression-era law that's designed to protect bond investors, said the people who asked not to be named because the campaign isn't public. Should Leon Black's Apollo and David Bonderman's TPG succeed in modifying how the Trust Indenture Act is used, distressed companies would gain more control over how they restructure their debt and have an easier time beating back lawsuits from creditors.
Caesars and its supporters argue that they are simply trying to restore the original intent of a law that's been misinterpreted in some recent court cases. On the other side: investment firms including Oaktree Capital Group LLC and Marblegate Asset Management that have said lawmakers should maintain the status quo to ensure bondholders' rights are protected.
More from Bloomberg.com: Soros Says China's Debt-Fueled Growth Echoes U.S. in 2007-08
Spokesmen for Apollo, TPG and Caesars declined to comment.
The Washington lobbying is a secondary strategy for...
More