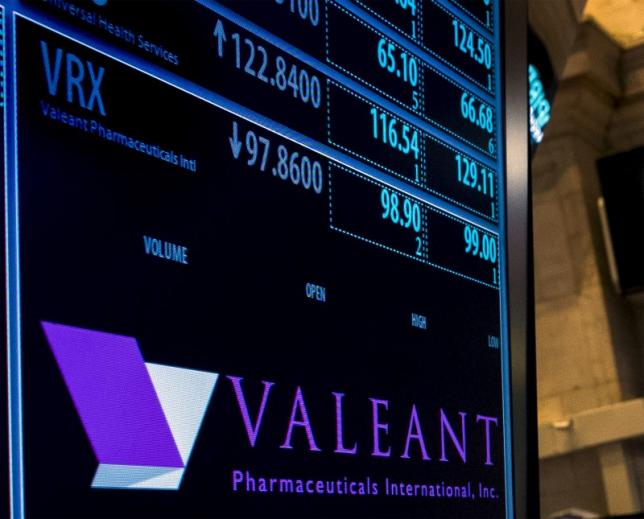 Valeant Pharmaceuticals International Inc (VRX.TO)(VRX.N) shares fell as much as 20 percent on Thursday to a level not seen since 2013, heaping new pressure on Chief Executive Officer Michael Pearson after weeks of steep losses due to concerns about the drugmaker's business practices.
The stock has plunged from $263.70 on Aug. 5 to below $80 on Thursday on scrutiny over high price markups for its drugs and accusations it used a specialty pharmacy, Philidor Rx Services, to inflate revenue. Valeant has denied the allegations, but has not allayed investor concerns as new reports surface of questionable billing practices at Philidor.
One new trigger for selling, said BMO analyst Alex Arfaei, may be a Wall Street Journal article on Thursday in which major Valeant investor Bill Ackman, of hedge fund Pershing Square Capital Management, told a Valeant board member that Pearson may have to go.
Ackman's firm and its investors have lost roughly $2.3 billion from their 6 percent stake in Valeant since the bet was made early in the year. The size of Ackman's fund has shrunk to roughly $14.5 billion from $20 billion earlier in the year as Valeant, his biggest bet, has soured.
Later Thursday, Ackman in an email to Pearson, seen by Reuters, expressed confidence in the CEO's leadership and willingness to take steps in the best interest of investors.
"You are one of the most shareholder-oriented CEOs I know," Ackman wrote to Pearson. "You have assured me that you and the rest of the board are considering any and all alternatives that would benefit shareholders and other stakeholders."
A Valeant spokeswoman said Pearson retained the full confidence of...
More