Shutterstock operates as an online marketplace for commercial digital content imagery. The company's stock lost more than 50% over the last year, current stock price is around $28 and the company is going to announce the Q3 results in a week. 
<!== INSTRUMENT %% %60% ==!>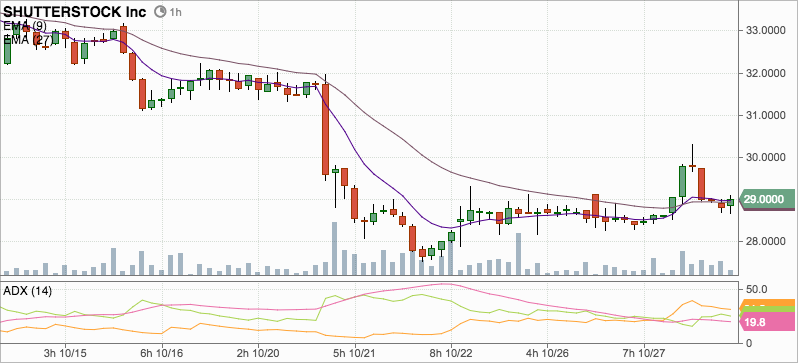 The business model is rather simple, the vast majority of Shutterstock's revenue is generated by licensing commercial digital imagery and music (Source: 10-Q form). There are several things concerning the business operations that I would like to pay attention:
revenue increased more than 30% in the first half of the year in comparison with the same period of 2014. Moreover, the revenue growth rate increased even if we compare Q1 with Q2: 30% vs 32%;
Shutterstock increased significantly revenue per download from $2.49 to $2.86 (June 2014 vs June 2015);
Paid downloads number grew up as well from 61.2M to 69.3M.
The company has two main issues: competitors and its G&A expenses. According to the Q2 results, Shutterstock increased its G&A expenses from 38% as of June 2014 to 41% as of June 2015. Competitors does not have any rocket technologies or ideas that can influence on Shutterstock operations significantly. 
The company's operating expenses are at the same level as in 2014. The business is profitable, net income margin is around 5% (as of June 2015). 
I am sure, that we should carefully check the Q3 results on Nov 5, 2015. What do you expect from Shutterstock?