This article previously mentioned RFID technology that Amazon says it does not plan to use in Amazon Go stores. That reference has been removed.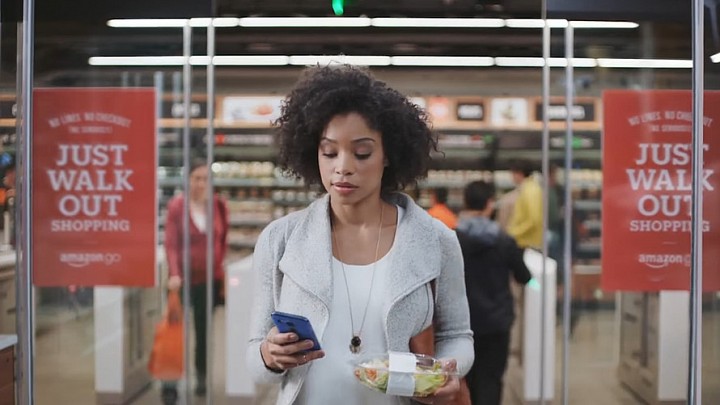 Amazon.com Inc.'s plans for its most ambitious bricks-and-mortar effort yet aim to disrupt an arena seen as an Achilles' heel for Silicon Valley: the $795 billion grocery industry.
Amazon released a video Monday about a convenience-store effort called Amazon Go, one of three grocery concepts the online retail giant is planning, according to a Monday report from The Wall Street Journal and earlier reporting from Business Insider. According to Amazon's website, Amazon Go has been in the works for four years and weaves together a combination of machine learning, computer vision, artificial intelligence, and sensors in what it calls "Just Walk Out Technology," which rids the store of one of the biggest hassles of shopping: the checkout lines.
"No lines, no checkouts, no registers — no, seriously," states the voice-over on a promotional video posted on Amazon's website showing shoppers apparently in their 20s entering the store, scanning an app at the turnstile and simply walking out with their wares.
The ability to build its biggest push into physical retail from scratch with this type of automatic technology could be the ticket to further disruption of traditional bricks-and-mortar retailers like Wal-Mart Stores Inc. WMT, +0.60% and Target Corp. TGT, -0.27% . Grocery...
More