AUD/USD found support at 0.75 last week, and is pushing higher this week passing 0.77 today (9/8).

AUD/USD Weekly Chart 9/8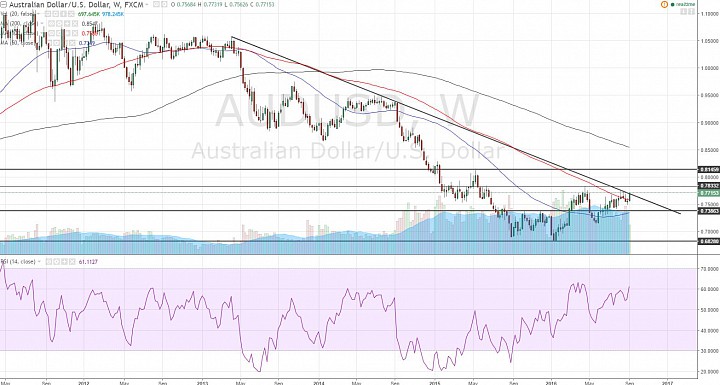 (click to enlarge)
Coming off a price bottom:
- Looking at the weekly chart, we can see that price action since late 2015 has established a bottom. 
- After price rallied to 0.7830, AUD/USD fell back towards the price bottom. We can see now that the market respected this price bottom in May.
- Now, price is pivoting up from a higher low, and suggests a strong possibility of a higher high (above the 0.7830 high). 
Cracking trendline:
- Also note that AUD/USD is testing a falling trendline that goes back to 2013. 
- A break above 0.7760 would clear the August high as well as the falling trendline and thus signal a bullish breakout.
Bullish continuation:
- All the signs noted above point to bullish continuation.
- It should be noted that if price does close the week above 0.7760, this week's candle would essentially be a bullish engulfing candle. 
- Such a candle that engulfs previous weeks of correction would be another strong bullish continuation signal.
- The resistance pivot at 0.7830 will be vulnerable to the short to medium-term bullish momentum. 
Upside to 0.8145:
- We should respect the bullish outlook building up in the medium-term. 
- However we should also respect the prevailing downtrend since 2013. 
- These two forces suggest we can anticipate a rally towards 0.81-0.8145, the resistance pivot form May 2015. 
- But we should still anticipate some stickiness around the psychological level of 0.80.
- The time-frame would be the medium-term: rest of 2016.  

Key data out of Australia:
- The most important data this week coming out of Australia was the RBA's decision to hold the official cash rate at 1.50%. It will be bank president Glenn Stevens's last session with the RBA.
- We also saw data showing Australia's GDP growing 0.5% in Q2. This was lower than the 1.0% in Q1, but was more or less expected.