8 companies that have at least doubled their dividends

13 february 2015
Dividend-boosting companies tend to outperform the broader market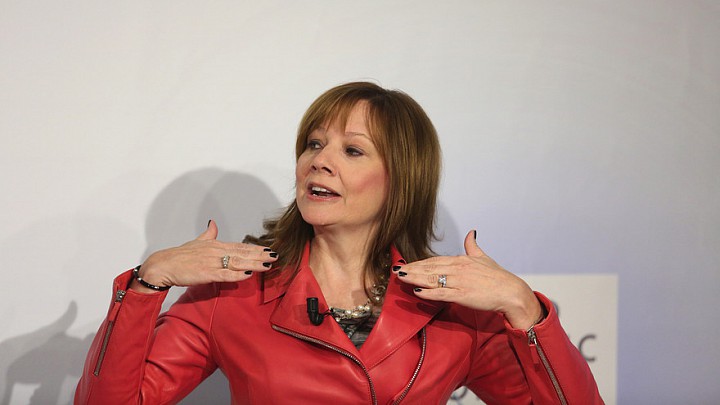 Bloomberg News/Landov
Under the leadership of CEO Mary Barra, General Motors has gone from paying no dividend to paying $1.44 a share per year for a yield of 3.84%.

You may have read that companies that are heavily dependent on oil prices are cutting capital spending and dividend payments to shareholders. But, by and large, most members of the S&P 500 Index are raising their dividend payouts, some by at least double.
The S&P 500 SPX, +0.96% itself has a dividend yield of 2.01%, which isn't bad when considering that 10-year U.S. Treasury notes TMUBMUSD10Y, +0.43% yield a bit less, and the average interest rate for a 12-month certificate of deposit is only 1.08%, according to BankRate.
On Wednesday, PepsiCo Inc. PEP, -0.14% raised its quarterly dividend to $70.25 cents a share from 65.5 cents, even though the soda and snack maker's fourth-quarter sales and profit declined. The higher dividend makes for a yield of 2.87%. The company plans to spend between $8.5 billion and $9 billion on stock buybacks this year. In 2014, Pepsi bought back $5 billion in shares, and its average diluted share count in the fourth quarter was down 2.4% from a year earlier.
A declining share count is a good thing because it boosts (or mitigates the decline of) earnings per share. If a company gives more stock-based compensation to executives than it spends on buybacks, the share count goes up and the dilution hurts shareholders.
Several other large companies have raised dividends recently. Here are a few examples:
Time Warner Inc. TWX, -0.93% raised its quarterly dividend on Wednesday to 35 cents a share from 31.8 cents, despite reporting a 1% decline in revenue.
Stryker Corp. SYK, +0.44% increased its quarterly dividend by 13% to 34.5 cents a share on Wednesday.
General Motors Co. GM, -0.05% reported a 91% jump in fourth-quarter profiton Feb. 4, while raising its quarterly dividend by 20% to 36 cents, for a fat yield of 3.84%.
Why are dividends important? For one thing, some investors want current income, and many stocks provide it, along with the prospect of capital growth over time. The dividends also show that management has shareholders' interest at heart, at least to some extent. Another important thing to consider is thatlarge-cap companies that consistently raise dividends tend to outperform the broader market, even if the dividend yields aren't very high.
Here are the 15 S&P 500 companies that have raised their regular dividend payouts the most over the past 12 months.
Company
Ticker
Annual dividend
Annual dividend - 12 months ago
Dividend increase
Closing Price - Feb. 10
Dividend yield
Allegion PLC
ALLE,+1.83%
$0.32
$0.00
N/A
$56.88
0.56%
Crown Castle International Corp.
CCI,+0.01%
$3.28
$0.00
N/A
$87.17
3.76%
Denbury Resources Inc.
DNR,+1.67%
$0.25
$0.00
N/A
$8.20
3.05%
General Motors Co.
GM,-0.05%
$1.44
$0.00
N/A
$37.52
3.84%
Juniper Networks Inc.
JNPR,+0.59%
$0.40
$0.00
N/A
$23.12
1.73%
Lam Research Corp.
LRCX,+0.63%
$0.72
$0.00
N/A
$80.58
0.89%
Navient Corp.
NAVI,+0.01%
$0.64
$0.00
N/A
$21.67
2.95%
Perrigo Co.
PRGO,+0.21%
$0.50
$0.04
1,150%
$149.96
0.33%
Vulcan Materials Co.
VMC,+0.74%
$0.24
$0.04
500%
$77.76
0.31%
Bank of America Corp.
BAC,+1.89%
$0.20
$0.04
400%
$16.42
1.22%
Danaher Corp.
DHR,+1.10%
$0.40
$0.10
300%
$85.46
0.47%
AES Corp.
AES,+0.33%
$0.40
$0.20
100%
$12.16
3.29%
SunTrust Banks Inc.
STI,+0.01%
$0.80
$0.40
100%
$40.96
1.95%
Morgan Stanley
MS,-1.44%
$0.40
$0.20
100%
$36.16
1.11%
Universal Health Services Class B
UHS,-1.92%
$0.40
$0.20
100%
$106.08
0.38%
Source: FactSet
The first seven companies on the table are listed alphabetically, because they increased their dividends from zero. The rest are sorted by the percentage increase of dividend payouts over the past year.
Philip van Doorn