At the end of last week
I wrote about the GBP/USD testing a key level of support at 1.6255
and the possibility of the pair using that as a staging point to continue its rally. That seems to have worked out pretty well. The support, after being pierced below to take out some stops and get bears going the wrong way, reversed course and the
GBP rallied sharply after its employment data
.
<!== INSTRUMENT %% %20000% ==!>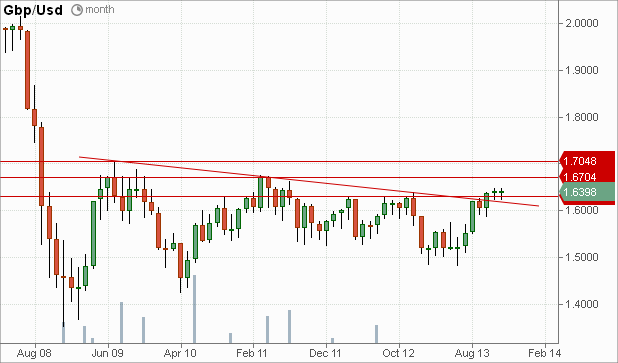 What I wanted to do here is take a look at the long term picture (using monthly! charts) as the pair is pushing to level we have not seen since 2011.

Keeping it simple here, as we have a break of a downward sloping resistance trendline that goes back to 2009.
Next, I lay out a few horizontal resistance levels, with one having been breached this month.
The next key levels are at 1.67 and 1.7050, about 300 and 750 pips away from current prices.

Not saying we will get there in a straight line, and we still have an important resistance in the short term at 1.6465, but if that recent high is breached, and the situation around the BOE continues to point to quicker tightening than market had priced in earlier, then we can see a medium/long term trend develop in which we target those long term levels over the coming months.