At heart I've always been a yield-hound. Companies can and often do engage in shenanigans with their reported numbers to juice earnings and other metrics, but you can't fake a good cash payment to shareholders nearly as easily. I realize that if you're in an investment for the long-term and have an amazing capital allocator like Warren Buffet (BRK-B) at the helm of a company dividends don't make any sense, but let's be honest, there aren't very many capital allocators out there like Buffett. I also understand that dividends are not always the most tax-efficient way for companies to use capital for investors who hold shares in non-retirement accounts.
Still, I have always enjoyed purchasing stock in companies, including REITs and MLPs, that make pay above-average payouts to investors and watching as Mr. Market realizes they payout is too high and dividend or distribution-normalization commenses, resulting in decent capital gains. I realize that high dividends are often a sign of a problem at companies, but that definitely is not always the case.
That describes my investment in Northstar Realty Finance (NRF) in a nutshell.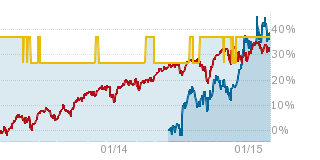 A chart of NRF's (blue) performance since it was spun off from NSAM vs. the S&P 500 (red)
NRF was born last summer when it was split off from its asset-light brother, the asset manager NorthStar Asset Management (NSAM). The market has not yet woken up to how high-quality NRF's assets are. I think that one of the REIT's main problems with it is that it has a tremendously diverse set of assets. While NRF does have some commercial real estate loans and other securities on the books (not my favorite thing in the world), nearly 80% of its portfolio is composed of real, tangible real estate assets. As I mentioned, this real estate is divided among a number of sectors including healthcare, hotels, manufactured housing, net lease, mutli-family, etc...
The typical Equity REIT in today's market sports a yield of 3% to 5%. So in essence, the Mr. Market is assigning an MREIT yield to NRF while looking at only 20% its portfolio. How is this problem solved? By spinning off assets into more specialized, smaller REITs theoretically the market will recognize them for that they are and bid up the shares of the spun off entities until their yields are at a more normal level, resulting in sign ificant capital gains. This process has begun.
Just recently National Realty Finance announced that it is spinning off its European Real Estate assets into a separate REIT called NorthStar Realty Europe Corp.
NorthStar Realty Finance Announces Plan to Spin-off European Real Estate Business into a Separate Publicly-Traded REIT
http://phx.corporate-ir.net/phoenix.zhtml?c=185725...
Here's a great quote from the press release:
"The Company believes that the transaction represents an opportunity to unlock value for NorthStar Realty shareholders through benchmarking NorthStar Realty Europe against publicly-traded European equity REITs, many of which trade at substantial NAV premiums and at implied capitalization rates that would translate into substantial immediate value creation for NorthStar Realty shareholders...
NorthStar Realty Chairman and Chief Executive Officer, David Hamamoto commented, "We are constantly searching for ways to maximize shareholder value. As an equity REIT with superior access to capital and the capability to execute complex, cross-border pan-European transactions, we believe NorthStar Realty Europe will enjoy competitive advantages over other European investment vehicles and will be uniquely positioned to exploit opportunities in Europe."
I agree. I think that the spinoff of parts of NRF into more specialized REITs will lead to significant multiple expansion and distribution normalization, leading to attractive capital gains for its shareholders.
Thanks for reading, recommending and commenting everyone.