The big bearish headline for Telecom yesterday (10/30) was: Softbank Kills Merger talk between Spring $S and T-Mobile $TMUS. CNBC reported that "Reuters and Dow Jones both confirmed that SoftBank was hesitant to give up control of Sprint."
As you can expect, both companies are reeling after this news. Let's take a look at their charts:
Sprint (S) Daily Chart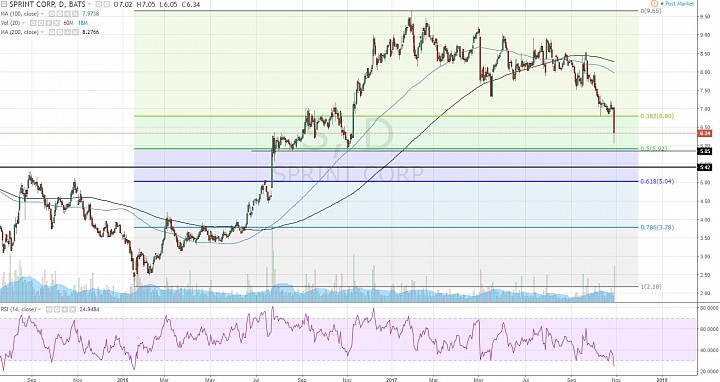 (click to enlarge)
Year of Correction:
- 2016 was a bull year and 2017 has been a year of consolidation.
- It has turned somewhat bearish since May, and is in another bearish leg even before today's headline.
- Because the rally in 2016 was much sharper than the dip so far in 2017, I think the 2017 price action is just a correction.
- Therefore, it would be appropriate to monitor key Fibonacci Retracement levels i.e. 50% and 61.8% along with key pivots.
- This should focus our vision around the 5.50 area, or 5-6 area for support.
T-Mobile (TMUS) Daily Chart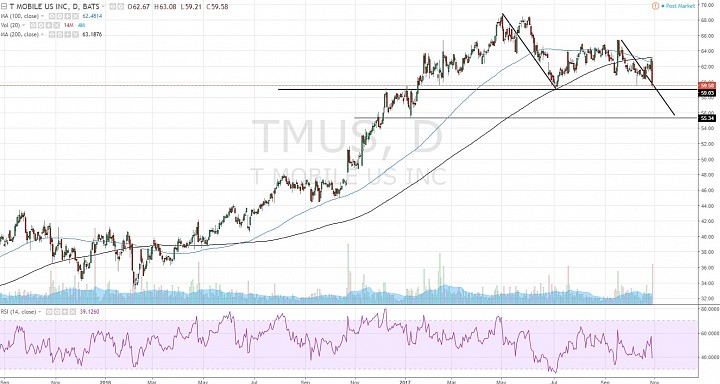 (click to enlarge)
Bearish Correction:
- $TMUS has been outperforming Sprint, but still transitioned into a consolidation phase in 2017, albeit later than $S did.
- Looking at the daily chart, we can see that there has already been one bearish correction swing after a double top.
- We are likely seeing another one if price breaks below 59.50.
- If we project the second swing with the same intensity as the first - as in an ABC correction scenario - then we should anticipate a target around 56.
- The 55.35-56 area is a previous support pivot area, so we should definitely look for support here, especially if a RSI vs Price bullish divergence develops.

Meanwhile, $T and $VZ both fell, reflecting a bearish day in Telecom within a period of consolidation for this sector.