A couple of months ago, we noted that Mylan (MYL) was bearish as long as it stayed under 40. We also noted that the RSI as well as the structure of price action painted bearish bias.

Mylan (MYL) Daily Chart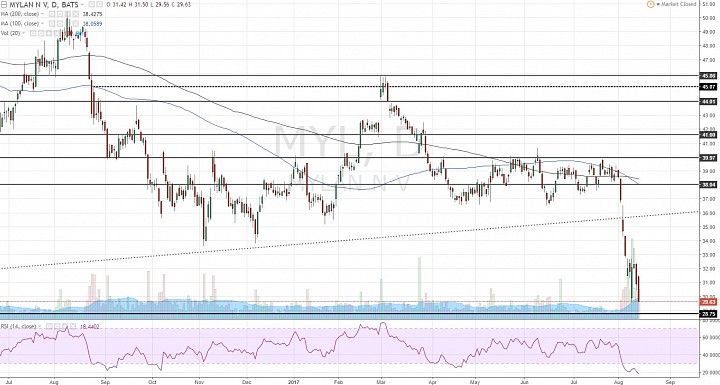 (click to enlarge)
Bearish Extension:
- The daily chart shows that price indeed held under 40, and started to extend downwards in August.
- It was quite a sharp sell-off, and the momentum remains strong.
Anticipating Support:
- As the saying goes, don't try to catch a falling knife. Right now this is a falling knife.
- However, I think when price gets below 29, we should start seeing some more choppiness if not a bounce back towards 34 (bottom of the 2017 consolidation).
- The area around 24 is another critical support with strong probability of buying. It was a common resistance that could turn into support at least for a short-term, dead-cat-bounce.
- So, we should really start paying attention if price drops into this 24-29 zone.
Mylan (MYL) Weekly Chart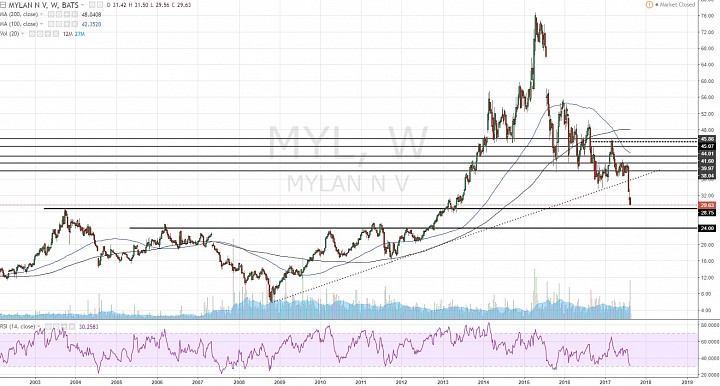 (click to enlarge)