Score one for Big Government, zero for Big Business. That's the message broadcast yesterday afternoon when a U.S. federal judge ruled in favor of the Federal Trade Commission (FTC) against a merger between office superstores Staples (SPLS - Get Report) and Office Depot (ODP - Get Report) , seriously damaging these businesses in the process. Can the leadership at either company breath new life into their beleaguered businesses?
The U.S. District Court for the District of Columbia's Judge Emmet Sullivan ordered the deal temporarily halted on concerns about antitrust. "The Court finds that Plaintiffs have met their burden of showing that there is a reasonable probability that the proposed merger will substantially impair competition in the sale and distribution of consumable office supplies to large Business-to-Business," he wrote in his three-page ruling.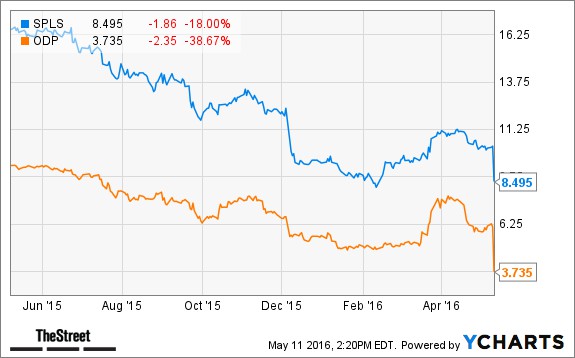 The $6.3 billion deal would have combined the country's two largest bricks-and-mortar office supply chains. The FTC opined that the merger would not only reduce competition in the industry, but also cause prices on supplies to be...
More