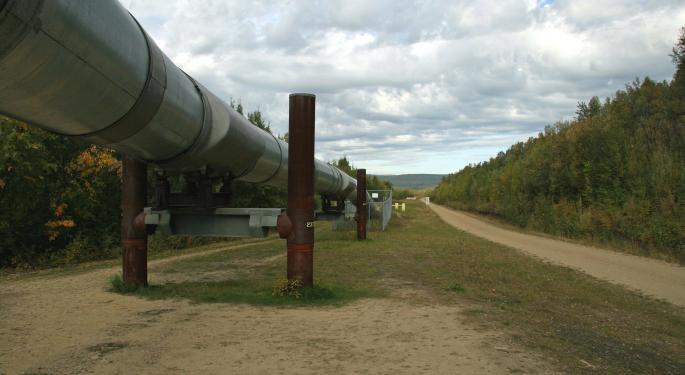 Kinder Morgan Inc KMI reported its Q3 results, with the EBITDA ahead of the consensus and the estimate.
Credit Suisse's John Edwards upgraded the rating on the company from Neutral to Outperform, while raising the price target from $23 to $26.
Edwards mentioned that despite the EBITDA beat, management guided to 3 percent below the 2016 EBITDA budget and 4 percent below the DCF budget, consistent with the previous quarter.
Kinder Morgan also affirmed that it was delivering 0.2x better than budget, driven by the sale of 50 percent of its Southern Natural Gas (SNG) pipeline to Southern Co SO, which closed on September 1.
"Management cut another $100mm from growth cap ex, to $2.7B and the project backlog fell $500mm more to $13.0B. We forecast below 5.0x Debt/EBITDA by 2Q18," the analyst stated.
Dividend
Chairman Rich Kinder stated that management was working to ensure excess cash over dividends to be able to cover 50 percent of the normalized capex, when the balance sheet went below 5x leverage.
Edwards raised the dividend estimate to $0.25 per share, beginning in Q3, saying, "In our blended valuation approach, this removes the drag from the dividend component."
According to the Credit Suisse report, "Management was bullish on the future, especially on natural gas infrastructure. However, mgmt. noted permitting has been getting more difficult though projects are still getting done."
| Date | Firm | Action | From | To |
| --- | --- | --- | --- | --- |
| Oct 2016 | Wolfe Research | Upgrades | Peer Perform | Outperform |
| Oct 2016 | Stifel Nicolaus | Upgrades | Hold | Buy |
| Oct 2016 | Credit Suisse | Upgrades | Neutral | Outperform |
© 2016 Benzinga.com. Benzinga does not provide investment advice. All rights reserved.