AUD/USD has been bullish since June, but is now up against a key resistance.

AUD/USD Weekly Chart 8/12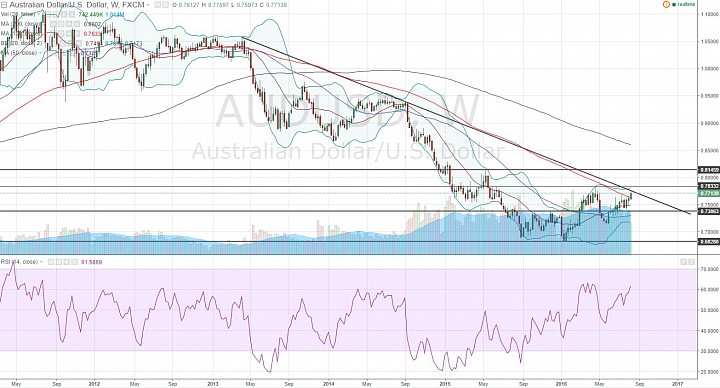 (click to enlarge)
Bullish correction:
- We can see that AUD/USD has been bearish since 2013, but started to stall in late 2015. 
- In 2016, we are basically seeing a bullish correction against the prevailing downtrend. 

Key resistance:
- As price approaches 0.78, AUD/USD will test a falling trendline going back to 2013. 
- The 0.7833 pivot will also be key. 
- A break above 0.7835 should open up the AUD/USD to further bullish correction, at least towards the 0.80 handle and possible up to the 0.8145-0.8150 resistance pivot. 
- Otherwise, we should see a swing towards at least the 0.7385 pivot to test the price bottom formed at the end of 2015. 
- A break below 0.7350 should open up the 0.70 handle, and possibly the 0.6830 low on the year .

Long-term view:
- The bullish outlook should be limited to the short and medium-term, as the AUD/USD's long-term mode is still bearish based on the weekly chart. 
- Still, the bearish mode might have been neutralized, so subsequent bearish outlook should probably be limited to the 0.7385-0.785 area. The most aggressive bearish outlook should be 0.70 in the scenario that AUD/USD goes into a long-term sideways mode. 
- When talking about the long-term view, we should note that there is more fundamental and event risk with multiple central bank policy meetings in between, so let's not get too far ahead of ourselves.