As the broader markets were selling off on Wednesday. There was little reason for most to think they wouldn't be heading lower toward their respective prior lows or below them. As we know now that didn't happen; however, individuals trained in the use of market internal gauges had the tools to determine that the turn was close and those using them intraday would've been able to pinpoint it almost to the minute. Let's review where they were and how you can use them.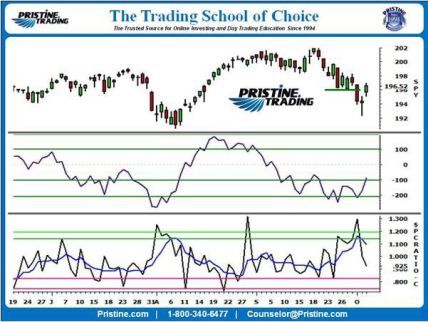 The type of bottom and sharp rally from the low in the broader markets suggests that those traders that were short were caught off guard and had to scramble to cover those positions. As I previously said, there was little reason for most to think that the markets wouldn't head toward the respective prior lows are below them. It was a reasonable thought based on the price action alone. However, there was a kink in the Bears armor that became evident Wednesday night.
While the McClellan oscillator (a breadth market internal) had already reached oversold levels, the Total Put/Call Ratio had not shown the extreme in bearish sentiment until late Wednesday. At the close on Wednesday we can see that the typical wrong way option traders were loaded for what they believe would be the coming crash. When we have breadth market internals aligned with sentiment market internals like the Total Put Call ratio; historically, we know that the odds of a short-term upward reversal is close. Let's add one more internal.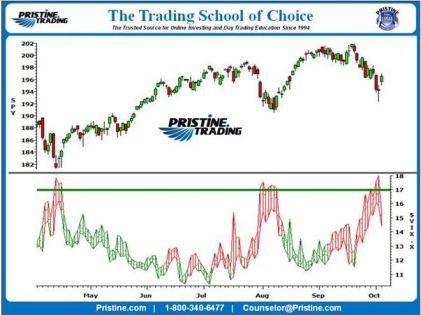 The Volatility Index is a sentiment internal that is considered to be a fear gauge, but also traders' expectations for future volatility. When it's trending lower or basing at lower levels. The expectation is for low volatility and an upward trending market. When the Vix is trending higher expectations are for increasing volatility and a downward trending market. While this information is very useful, being aware of prior resistance areas in the Vix has proven to be priceless at pinpointing short-term market bottoms.
I continually remind students in coaching sessions as well as those in our chat rooms to have their alert set in the area of prior highs in the Volatility Index. I told them it's not necessary to watch this intraday and it's possible that alert may not go off for months, but when it does pay close attention to what's happening. In the chart above, you can see the turning points in the market each time the volatility index reached its prior high. These high reference points can change over time as the market environment changes it is your job to be aware of other prior highs were or newly established highs. Set your alert.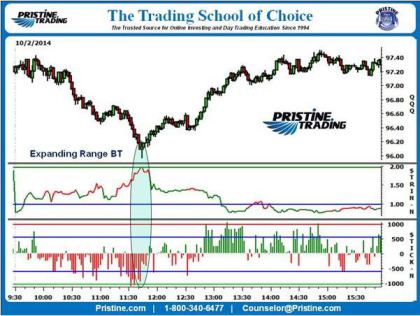 As the trading day began on Thursday, the daily market internals mentioned told us that a low point was not that far off; however, that low could have been the day or two away. Historically, that's what we know, but it doesn't tell us exactly when or where. By using our intraday internals and price action you're able to determine the likelihood of that turn almost to the moment of it happening.
In the chart above is the NASDAQ 100 ETF symbol QQQ, the NYSE TRIN and the NYSE TICK. At the low, we see an expanding range Bottoming Tail (BT) candle. Bottoming tail's that are also a range expansions candles signal capitulation and that sellers are throwing in the towel. Price ranges expand and volatility does as well at bottoms.
The line under QQQ is the NYSE TRIN. It measures the volume associated with advancing stocks versus the volume associated with declining stocks. When rising, there is more volume associated with decliners. When declining, there is more volume associated with advancers. For that reason, we want to monitor the trend of the TRIN and extreme levels. Historically, when the TRIN rises to or above 2.0 there is an overwhelming amount of volume moving into declining stocks and the odds of a short-term bounce are likely.
Under the TRIN is the NYSE TICK. The Tick measures the number of stocks trading on upticks versus down ticks. Generally, ticks moving between plus and -600 are neutral. Once we see ticks moving beyond those levels were seeing some real confirmation to the buying or selling. That being said, when prices have been falling and then the tick's move beyond – 1000, a short-term bounce is likely. In a bear market there can be many -1000 tick readings and even more extreme readings than that. While this is not a bear market now, I thought that was worth being mentioned.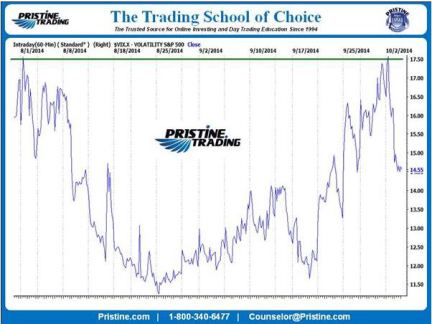 Above is an intraday chart of the Vix and shown earlier on a daily time frame. As I said, it's not necessary to monitor it on a chart intraday, but you will set an alert at that prior high. I displayed the chart so that you can see that the exact turning point in the volatility index was at the prior high. This coincided with the TRIN reaching an extreme (have an alert set for it as well), and the Tick reaching an extreme (set a Tick alert also at an extreme) and the market low.
We already knew that the McClellan oscillator and the Total Put/Call Ratio were at extremes. As you put together these market internal pieces the weight of the evidence of a short-term broader market upward reversal being at hand becomes overwhelming. Now that you know this, can you possibly ignore it in the future?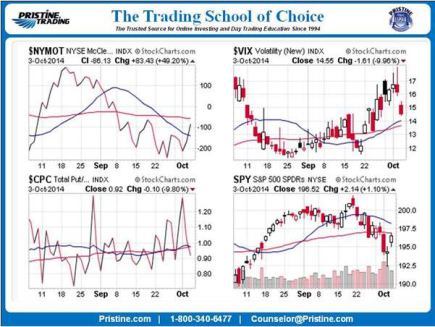 If you don't have these tools in your trading platform, you can view them at least on a daily time frame and they will be a great help to you in determining short and even intermediate-term market lows. Above you can see the McClellan oscillator, Volatility index, Total Put/Call Ratio and the S&P 500 ETF Symbol SPY. I set them up so that you can view them here from this link http://stockcharts.com/freecharts/candleglance.html?$NYMOT,$...|B|0 save the link as one of your favorites and you can monitor it on a daily basis.
Whether you are an investor, Swing Trader, or a Day Trader these market internal gauges or valuable tools to make part of your Stock Market Education to use to help determine short-term and even intermediate-term reversal points in the market. It's not always easy to change a your bias from a bearish or bullish one, but by using market internals gauges, the odds of you turning with the market – as it suggests – are a lot greater.
I typically review these market internal gauges in our chat rooms each week and at times in our After Market Lessons. I'll be presenting an After Market Lesson this Monday at 4:15. I hope to see you there. Have your questions ready. I'll also be opening up my private coaching session for our Lightspeed traders. You will be welcome to join that session where we will review trades, broader markets movements and trading concepts. In addition, I've asked a long-time friend and professional trader to join in that session to explain how he uses the powerful Lightspeed trader platform to set up his charts and trade execution.
There will be other free workshops and even our weekly mid-day market and trade review on Thursday at 12 o'clock. Have a lot of activities this week. I hope you can make it all of them. If not, at least make it to some and enjoy the education. As always, for more information please email counselor@pristine.com.
All the best,
Greg Capra
President & CEO
Pristine Capital Holdings, Inc