USD/JPY has been strong in the previous week, but the run could be finding some headwind from a technical perspective. 
USD/JPY 4H Chart 9/5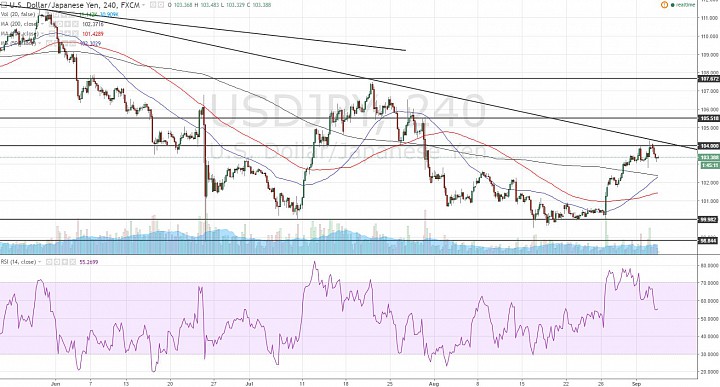 (click to enlarge)
Bearish-Neutral mode:
- The 4H chart shows a USD/JPY that was bearish but has flattened somewhat throughout July and August. 
- Price has recently rallied from around the 100 area to tag 104 at the end of last week.
Resistance factors:
- As USD/JPY tags 104, it is testing several resistance factors
- There is a falling resistance going back to the end of May when the pair was at 111. 
- 104 was also a previous support area, which could turn into resistance.
- The RSI has a bearish divergence against price action, reflecting a slowing of momentum. 
Bearish scenario with a bullish market:
- If there is going to be a correction, I think 102 is a viable target. 
- An aggressive target would be 101.
- I think a bullish market will be loaded with buyers around 101 instead of waiting for it to fall back to the obvious level of 100.
- Now, if price falls below 101, I think we have to maintain a bearish bias and look for USD/JPY to test the support area since June: 98.85-100.
Bullish scenario, trade consideration:
- A break above 104 opens up a bullish scenario for price to return to those July highs around 107. 
- We still might see some correction, but in this scenario, we would at least be more confident of the upside when it comes to determining reward to risk of a buy-on-a-dip trade.