I've been following the
AUD/USD throughout the week as we have had a very nice 4-session rally that went against the dominant downward trend, which made me think of looking for places to try and fade the rally.

Here's
links to those articles:

Where Does AUD/USD Retrace End?
(from Wed.)
AUD/USD's Post RBA Relief Rally Looks to Be Losing Steam With Double Top Afoot
(from Tue,)
So far, no dice...
But when it comes to corrective retracements, the "holy grail" (for me at least) can be considered the 61.8% retracement. I have a belief that many different types of trades look at that important fib level as a place where corrective moves can potentially end and if a pair moves above that level then the corrective move may not be corrective after all, but instead impulsive (meaning we have a change of dominant direction - if not from downtrend to uptrend, or vice versa, then at least from trending to ranging). In other words we can be proven wrong fairly quickly.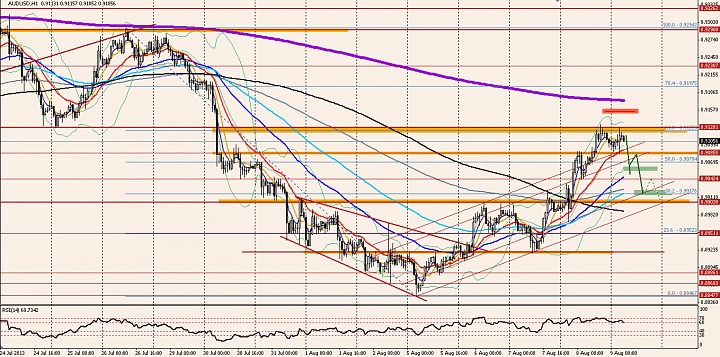 In any case, here we are with the
AUD/USD testing that key resistance. What I like about it here is that this level was also an important level of support back in late July. We therefore have a confluence of the fib level along with a potential support turned to resistance level. Finally, I am also looking at the RSI which in the 1-hour timeframe has been overbought for the last 2 sessions, even though its managed to push higher and higher. However the last few price highs were not met with higher RSI highs - the classical bearish divergence signal. Will it work this time?

With these 3 bearish technical signals to work with 1) 61.8% fib 2) old level of support turning to resistance and 3) overbought conditions in the RSI give me enough confidence to try and take a chance here (which I have). My stop is somewhere near 0.9155 (the red rectangle), while I'll have 2 targets to the downside (the green rectangles) and I'll scale out of my position if the market goes my way.

Since putting on this trade, the pair has retested the 61.8% fib at 0.9128 and held again. Maybe a potential double top? So there it is, this is a trade set-up I've been stalking for most of the week, and I would much rather have the pair continue higher and have a losing trade than not take my shot when my trading strategy shows me the signals I am looking for.

Anybody else on board with this trade set-up or see some other factors (either bullish or bearish) that I may have missed with the
AUD/USD?. Let me know below.

- Nick